Bisleri partners with Grofers for the exclusive launch of Bisleri Pop
Mumbai: In a reflection of how consumers are growing their preference for e-commerce, Bisleri International is launching its four flavoured beverage range, Bisleri Pop, only on Grofers, an on-demand delivery service mobile platform. As part of this exclusive tie-up, every time a consumers click on Bisleri advertisements, they will be directed to the Grofers app.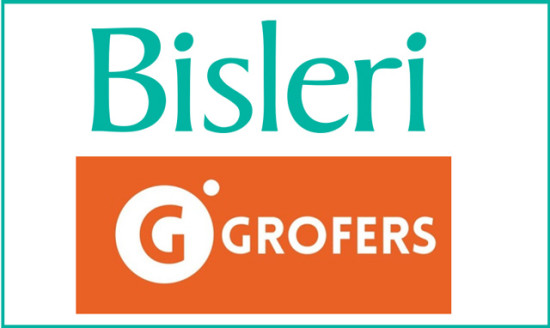 Consumer packaged goods marketers are embracing a mix of m-commerce and new distribution methods to get closer to their consumers. Mobile apps are increasingly seen as a way to offer convenience and build consumer loyalty and hence this partnership is seen as a natural fit for both the brands.
Bisleri International, which has re-entered the soft drink segment, is launching its four exciting variants, Bisleri Limonata, Bisleri Fonzo, Bisleri Pina Colada and Bisleri Spyci on Grofers under the 'Bisleri Pop' portfolio.
Bisleri Pina Colada promises a sumptuous flavor which surprises you with a fruity fizzy fusion giving you a promising and refreshing taste. Spyci is a cola with a twist. Spyci is a unique mixture of masala and cola made to suit the Indian palate. Bisleri Fonzo is a unique fizzy fruit flavoured drink with a taste that has never been tried before by the consumers. Bisleri Limonata is a stirring drink with the zingy taste of lime and lemons. Limonata promises to enliven its consumer. The new range of soft drinks is launched across the country priced attractively at Rs. 10 for 200ml bottle, Rs 15 for 300 ml bottle and Rs 20 for 250 ml can.
Consumers in Mumbai, Delhi, Pune, Bengaluru, Ahmedabad, Chennai, Gurgaon, Hyderabad, Indrapuram, Jaipur, Lucknow, Kolkata, Noida and Surat will be able to purchase Bisleri Pop on Grofers, from March 21st onwards.
Speaking on this exclusive tie-up, Ms. Jayanti Chauhan, Director, Bisleri International said, "We are very happy to announce our first exclusive tie-up with Grofers for Bisleri Pop. We are motivated by ways through which we can get closer to our customer. People have become tech savvy and rely on mobile devices for almost everything. Offering a delivery service for our new launch is about meeting our customers with both convenience and connection and the added bonus of great taste!"
Speaking on the launch, Mr. Tapan Malhotra, VP Sales, Grofers said, "We are excited to exclusively partner with a trusted brand like Bisleri for the launch of the new Bisleri Pop. We are seeing a remarkable transformation in the way India shops with brands now having unprecedented direct & instant access to consumers through our mobile app. Supported by a robust supply chain till the consumer's doorstep, we will work closely with Bisleri to make Bisleri Pop the preferred drink for consumers this summer."
Bisleri has been developing the drinks for over a year and after final testing and development, they are now all set to launch the array of economical and refreshing soft drinks. Indian consumers are tired of the existing range of products and need something new and innovative. Bisleri Pop's unique flavours will stand out among the available flavours in the market and will give the consumer a wide variety of choices.
Bisleri partners with Grofers