The partnership has been conceptualized & curated by licensing agency Black White Orange
National, 5th May 2016: Suditi Industries Ltd. and YouWeCan (backed by Yuvraj Singh) have associated to create a clothing line under the YWC label. Brand licensing company Black White Orange Brands Pvt Ltd has brokered the deal, taking their strategic partnership with YouWeCan Ventures a notch higher. As a part of this exclusive deal, Suditi Industries Ltd will design and manufacture a licensed clothing line that will include lifestyle and fashion apparel for men, women & 4+ kids. The collection is expected to launch in stores & online by September this year.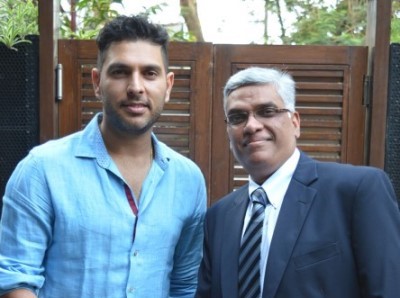 YouWeCan, a Yuvraj Singh foundation, started as a charitable trust promoted by the cricketer himself. Needless to say, the YWC brand ethos will reverberate Yuvi's motto to 'Live, Dare and Inspire'. Keeping in tandem with key global trends, the silhouettes of the apparel range will showcase Yuvraj's persona, both on & off the field. Most importantly, a percentage of the royalties from the sale of every product will be routed to support the initiatives of the YouWeCan Foundation.
Excited about his new endeavor, Yuvraj Singh added, "I am thrilled to start a line which will break away from the mould of the usual silhouettes, as YWC for me is not just a brand but an emotion. It's something that comes from within. Black White Orange plays a very instrumental role in the foundation & formation of brand YWC and in finding the ideal partners in Suditi Industries, to help realize and actualize the thought we had in mind for my apparel line. We are optimistic that our audiences will love the YWC clothing range and their support for the brand will help all the initiatives of the YouWeCan Foundation too. Looking forward to an exciting innings on this one!"
 Commenting on the launch, Pawan Agarwal, Chairman and Managing Director, Suditi Industries Ltd said, "We are happy to join hands with the one known for making the impossible, possible! It's a privilege to be associated with YouWeCan. Yuvraj Singh has had a phenomenal journey as a sportsperson and his popularity transcends age groups and boundaries. We're trying to replicate his personality on products and hope to make this the YWC line one of the leading Indian apparel brands in India! The brand YWC tie-up is not only a great opportunity for us to strengthen our position in the celebrity merchandising segment with high-quality products, but at the same time helps us contribute to a social cause."
Speaking on the collaboration, Bhavik Vora – Founder and CEO at Black White Orange said, "This will be an important step towards strengthening and curating the right partners for YWC as a brand. At Black White Orange, goals and strategies are long term & revolve around engaging man, machine, technology, environment and society to provide profitable, responsible and sustainable growth. With this deal we have most certainly moved a step further towards our goals and see Suditi Industries as a great fitment to realize this for Yuvraj's apparel category."
Brand YouWeCan Partners with Suditi Industries for its Clothing Line