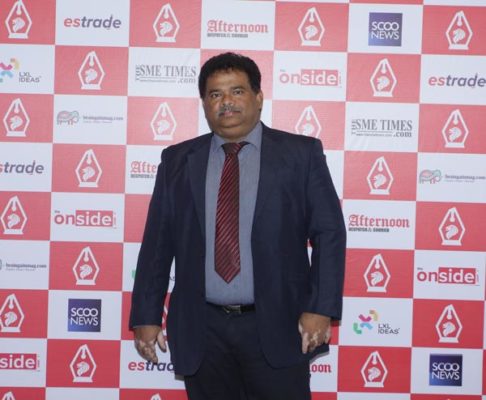 Estrade Media Pte. Ltd., recently concluded the Estrade Education Conclave & Awards 2017 – Singapore, on 25th March 2017. Team Estrade got an exclusive opportunity to speak to Dr. Partha Sarthi Mallick, Director, Ranking and Accreditation(RAAC), Vellore Institute of Technology University. Following are the excerpts of Team Estrade's conversation with Dr. Mallick.
About VIT University
Started as Vellore Engineering College in 1984, the institute was given the University status in 2001. The curriculum and syllabi are constantly updated to help students meet challenges, they face after graduation. Also, innovative methodologies are adopted constantly without compromising on quality. The University provides conducive learning environment. The infrastructure facilities are constantly enhanced to meet the growing demands of ensuring a quality education.
The campus has a cosmopolitan atmosphere, with students from all corners of the globe. Experienced and learned teachers are strongly encouraged to nurture the students. VIT has set global standards in the fields of teaching and research. The highly motivated youngsters on the campus are a constant source of pride. International Universities provide for an exchange of students and faculty, this encourages joint research projects for mutual benefits. Many VIT students, who pursue their research projects in foreign universities, bring high quality to their work and esteem to India. 
How do you feel on receiving the award?
I feel very good on receiving this award on behalf of VIT.  Thank you!
---
How do you see the growth of Education and Skill Development initiatives in India Today?
India is growing in both, but the growth rate is not as fast as it should be to compete with fast growing Asian countries in these sectors, such as China, South Korea, Singapore and Malyasia. "Skill India Mission" for the youth, Industry 4.0 are some excellent steps, similar to other steps taken earlier. But, initiatives (ideas) hardly matter unless they are implemented. In this regard, I would mention PRONATEC of Brazil which is very successful in promoting vocational education in Brazil (http://portal.mec.gov.br/pronatec).
---
Your views on the challenges faced by the Education and Skill Development industry?
Bureaocrats and Bureaocracy are two major blocks even sometimes the Govt. has honest interest for growth. Major challenge is to straggle for "Approvals and Affiliations" even though these approvals do not have much practical use and are out dated. Recently, the Government has announced Single Window clearance system for various Industries; education sector also needs the same.
---
 Your views on the ever changing demands in Job/Employment market that affects Education and Skill Development industry?
There is a strong correlation between learning and sustained employment. In order to meet the ever changing demands in Job/Employment market, institutions must create the facilities for continuously improving student's skill. Those students who keep learning will be able to adapt to any change and demands of the marketplace.
---
How do you see the growth of Education and Skill Development initiatives in India Today?
If it is today, yes, there are many initiatives available on paper. But as I said earlier, initiatives (ideas) hardly matter unless they are implemented. I can give statistics on the growth of Education and Skill Development in comparison to other countries competing with us. These statistics are not new to the people working in this area. Bureaucrats need to have a feel of it, before finalizing the agenda from the Government, otherwise they can simply manage everything "diplomatically" on paper and go about their work as usual. Without making a realistic impact of their policies.
---
What's your view on the demand for skilled professionals in both the organized and unorganized parts across sectors?
Yes, skilled professionals in both the organized and unorganized sectors are required. We are falling far behind the demand. In many sectors, still we need the help of foreign trainers. We should not hesitate to welcome them. Training should be only in house and at least for half a month with practical learning in relevant industries.
---
There is so much stress on Engineering, Medical and MBA programs, a lot of this has been fuelled by the IT industry and related fields in our country, is this the only way to move ahead?
Answer is NO. Yes, the Answer is truly NO. Country should be excellent in Basic Science. 99% of our industries are service oriented which is a major reason why Universities cannot collaborate with those industries where basic research components are almost nil. If basic science research is absent, Industries will not be able to fund Universities which is NOT the case in developed countries. A country cannot be a leader with only technical and management programs. Education and research in basic science and arts are required to create leaders for Industries either in IT or in manufacturing.
---
Do you see FDI in the Education sector coming to India in a big way? The sector has done really well over the years after all, so, any investments would be a safe bet. Your views.
No. The major challenge of Education Sector in India is quality manpower. Already there is a huge gap between demand and supply of quality manpower. Even the best universities are not getting competent people. I don't think this sector has done really well in India. Socio economic scenario of India is still different from other countries. At least for next 10 years, there is no future of FDI in education sector in India.
---
Which segment, the Education industry or the Skill Development industry, is expected to see a surge over the next 2 years?
Education industry imparting skills.
---
Is "Education for All" commercially viable? How job related skill development can be made a part of this, at all levels?
"Education for All" is essential and it is viable too. Skill development at all levels – no need. Need to identify the levels where it is required. A governing body can be formed and need to give them rigorous training (I mean to say training to change mind set up) towards building nation and converting education to job and job creation.
---
What is the key change you strongly feel that the Government must do in policy?
Time bound, delivery based, transparent, zero discrimination, accountability, quantum change, Minimum Government control and Maximum private sector contribution – should be encouraged in policy.
---
Digitization has been a key technology disrupter in various industries. How it is affecting the Education sector?
Digitization in education sector is bringing many changes in learning and also in the teaching process to a very great extent. But still many parts of the country mainly in rural areas, multimedia tools and other basic infrastructure is not yet developed. Digitization helps learners to get access immediately to whatever they need. Digital technology in Education will help for fast track development in a country like India where illiteracy is still a problem. It is equally helping learners of higher education as well.
---
What is the biggest challenge faced by the Education and Skill Development sectors in India? How do you propose the country should address this challenge?
Biggest challenge is identifying the right person for the right job. Once it can be done, 80% of the job is done. Country should identify a dedicated team instead of just leaving it to bureaucrats. Young people should be welcome to take the leadership in this. They will make a team to identify where skill development initiatives will be required. The conventional methodology of selection and training of bureaucrats, university Vice Chancellors, needs to be changed. We need to benchmark other countries and organizations of the world to make policy.  A strong and effective linkage between the industry and the trainer/skill imparting institute is required. Problem is, lack of a realistic attitude and approach in doing things. It is required to identify and do an in-depth analysis of the reasons behind the failure of our policies since independence in spite of adequate resources available to India.
---
How do we inculcate environmental and social sustainability aspects in the education of students?
Regular Workshops, through NGOs, Audio Video shows, training of school teachers, motivating school students towards awareness, are just some of the ways to inculcate these among students.
---
What is your ultimate goal when it comes to your work? What do you want your institution/ self to be remembered for?
My ultimate goal is to make an institute for the country which will be known in the world as an institute of excellence and my personal goal is, to create quality, skilled individuals who contribute in a major way to the country. Our university must be remembered for quality in education, research and employability.
---
What advice would you give to students and job seekers today?
Students – Read once, think thrice, never memorize. Connect your learning with development of society and country. Accept failure but never "give up". Avoid all shortcuts, think BIG.
Job Seekers – Don't seek, create jobs. Even you do so, always think why the company will take you? Do you contribute enough to your company?
"Challenge of Education Sector in India is quality manpower" – VIT University