All Coke Varieties Will Feature Brand's Trademark Red
Coca-Cola is announcing tonight a major global packaging shift as part of its push towards a "one brand" strategy.
The new packaging for the entire Coca-Cola trademark will feature the brand's signature "Red Disc," which figures prominently in the new "Taste the Feeling" campaign. The graphic visually unifies Coke, Diet Coke, Coke Zero and Coca-Cola Life. The new design will hit shelves in Mexico the first week of May and then roll out globally throughout 2016 and 2017. Packaging changes won't come to the U.S. until at least next year.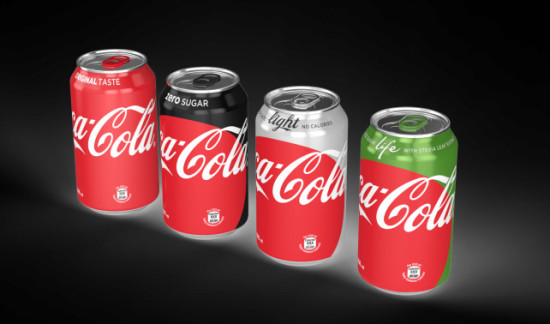 "Coca-Cola North America is exploring a variety of 'One Brand' packaging graphics for the Coca-Cola trademark," said Judith Snyder, a spokeswoman for Coca-Cola. "Due to an already packed promotion and marketing calendar, there will not be any changes made in 2016. The results of testing in North America will inform their packaging considerations for the Coca-Cola trademark in 2017 and beyond."
The brand must also decide how to integrate Diet Coke, which is the only variety to use the word "Coke" on packaging in certain markets. The new packaging all features a unified look utilizing the script Coca-Cola. "In markets like the United States where Diet Coke has a large and loyal fanbase, the business is considering how it will integrate Diet Coke into the 'One Brand' strategy," Ms. Snyder said.
"Packaging is our most visible and valuable asset," said Marcos de Quinto, chief marketing officer at Coca-Cola, in a statement. "The Coca-Cola Red Disc has become a signature element of the brand, synonymous with great taste, uplift and refreshment. By applying it to our packaging in such a bold way, we are taking the next step towards full adoption of the 'One Brand' strategy, uniting the Coca-Cola family under one visual identity and making it even easier for consumers to choose their Coca-Cola with or without calories, with or without caffeine."
Earlier this year, Mr. de Quinto told Ad Age that loyal consumers "always have loved the brand Coca-Cola." But "there are moments when this consumer wants to reduce their sugar intake." In those cases, Coke was forcing people to buy into a completely separate identify, he explained, referring to Diet Coke and Coke Zero. Diet Coke has been associated with Taylor Swift and fashion designers, while Coke Zero has aligned itself with Nascar and college basketball, for example.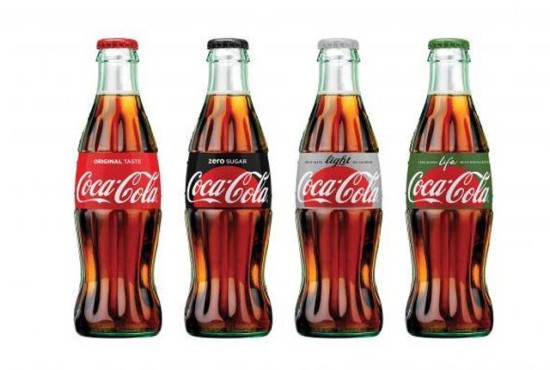 "Implicitly we were saying that Coca-Cola is no longer for everybody," Mr. de Quinto said. And through that scattered sub-brand strategy, "we were damaging the pure core of what the Coca Cola brand is — that it's a brand for everybody." The customization approach means that Coke will no longer have sub-brands, only "variants."
Of course, setting an enormous brand like Coke on a new marketing course is a massive undertaking and comes as the brand battles category headwinds, most notably declining soda consumption amid growing health concerns. While Coke remains the top soda brand in the U.S., its volume fell 1% in 2015, while Diet Coke volume fell 5.6%, according to Beverage Digest.
The changes, announced at an event in Mexico on Monday, represent an historic shift for the company. "The unification of the brands through design marks the first time in our 130-year history that the iconic Coca-Cola visual identity has been shared across products in such a prominent way," said James Sommerville, Coca-Cola's VP-global design, in a statement.
The Coca-Cola Global Design team, led by Mr. Sommerville, worked with six global design agencies to create the new "One Brand" packaging. The agencies include: BVD, Stockholm; Tatil, Rio de Janeiro; SDL, Stockholm; Moniker, San Francisco; Hey Studio, Barcelona; and United Design, San Francisco.
The Red Disc was first introduced in the 1930s on hand-painted Coca-Cola advertising, according to Ms. Snyder. "In 1947, the creative director at D'Arcy Advertising, Archie Lee, designed the contemporary version of the Red Disc that was the inspiration for our approach to the 'Taste the Feeling' campaign signature that we introduced in January," she said.
The "Taste the Feeling" campaign is now running in 195 markets and includes 12 TV commercials. Three new spots, "Professor," "Empty Bottles" and "Antarctic Summer" were unveiled at the event in Mexico.
Coca-Cola Unveils New Global Packaging