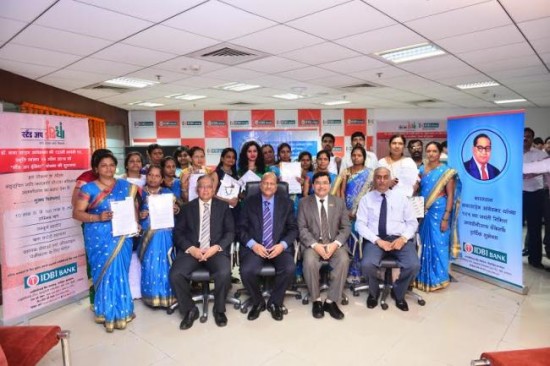 Mumbai: IDBI Bank launched the "Stand Up India' Scheme on a pan India basis on the occasion of the 125th birth anniversary of Dr. Babasaheb Ambedkar on Apr 14.
The scheme was launched by screening logo of 'Stand Up India' and a film made by Government of India on the subject.
Prime Minister  Narendra Modi had launched this scheme on the Apr 5, 2016 at Noida.
The objective of the scheme is to promote entrepreneurship amongst the scheduled caste or scheduled tribe and women and aid in their social upliftment.
The scheme seeks to transform "Job seekers into Job Creators".
The proposed scheme shall facilitate eligible borrowers to avail loans between Rs.10 lakhs upto Rs.100 lakhs to promote productive and economic activity.
IDBI Bank, has taken proactive initiatives to launch the scheme and to facilitate, handhold, provide necessary guidance to start new venture for SC/ST and women entrepreneurs to realize their entrepreneurial dream and uplift their economic and social status. The scheme was launched at all Regional Offices of the Bank, across the country.
During the launch, prominent SC or ST and women entrepreneurs were invited at all regional locations of the bank on pan India basis to familiarize them with the scheme. Other dignitaries of nearby areas also participated in the function.
On the occasion, video message of MD & CEO Kishor Kharat, emphasising the need to reach out to the under-served segment of the society, was screened at all locations. Eligible beneficiaries were issued loan sanction letters as per the scheme guidelines.
IDBI Bank has achieved great success in the implementation of the Pradhan Mantri Mudra Yojana which has helped 1.67 lakh small entrepreneurs realise their dream and is hopeful of replicating similar success in the 'Stand Up India'  Scheme.
IDBI Bank launches the 'Stand Up India' scheme