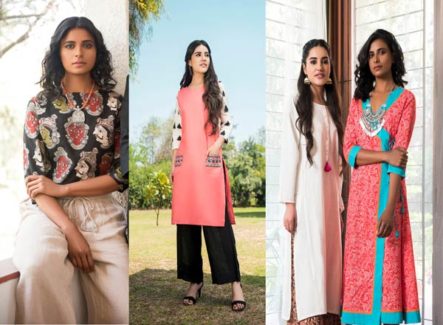 The new brand offers craft inspired contemporary ethnic wear for women, curated in four unique collections '
Mumbai: Craftsvilla.com, the largest online ethnic store, today launched its new in-house brand Anuswara that offers craft inspired contemporary ethnic wear for women.  The brand draws inspiration from the various crafts of India and gives them a contemporary look and feel. Consumers can choose from fusion and daily wear apparels in four different collections: Ikat Illustrations, Kalamkari Tales, Summer Hues and Indigo Impression. The fourth collection, Indigo Impressions, will be available from May.
Anuswara gives an opportunity to the women of today to look unique and stand out from the crowd, whether it is in office or at events through their stunning sense of fashion. Women not only want ethnic wear for key occasions like weddings and festivals, but also for daily wear using contemporary ethnic designs. Anuswara helps cater to this need of modern Indian women with craft inspired ethnic fashion.
Announcing the launch of Anuswara, Manoj Gupta, Co-Founder of Craftsvilla said that, "We have seen an increase in demand for contemporary ethnic wear on our portal, and realised that it's an opportunity. Anuswara, craft inspired contemporary ethnic fashion, caters to the needs of working women who are experimental without being edgy, and have the love for art and crafts. With the new brand, we aim to build the category of stylish ethnic fashion as an independent entity that will offer best quality, design and price for women."
4 Collection by Anuswara
Ikat Illustrations
Ikat is an age-old weave known for its beautiful zig zag structures created by interwoven yarns. The collection celebrates the craft with modern and fashionable silhouettes.
Kalamkari Tales
This collection is inspired by the traditional Indian art of Kalam kari, and is crafted to appeal to the evolved taste of contemporary Indian women.
Summer Hues
A colourful summer collection mainly in solids with a touch of embroidery and prints.
Indigo Impressions
A tribute to the ancient art of indigo dyeing, this eclectic collection focuses on Dabu, Bagru and Ajrakh prints
ABOUT CRAFTSVILLA
Founded in 2011 by Manoj and Monica Gupta, Craftsvilla is the largest online ethnic store for sarees, salwar suits, lehengas, kurtis, palazzos, skirts, jewellery, accessories and home decor. The company's vision is to take people back to their roots by re-introducing, repackaging & contemporising their ethnic legacy.  Craftsvilla is funded by globally renowned venture capital funds including Sequoia Capital, Nexus Venture Partners, Lightspeed Venture Partners, Global Founders Capital and Apoletto. For more information, please visit  www.craftsvilla.com
Craftsvilla launches its in-house brand – 'Anuswara'