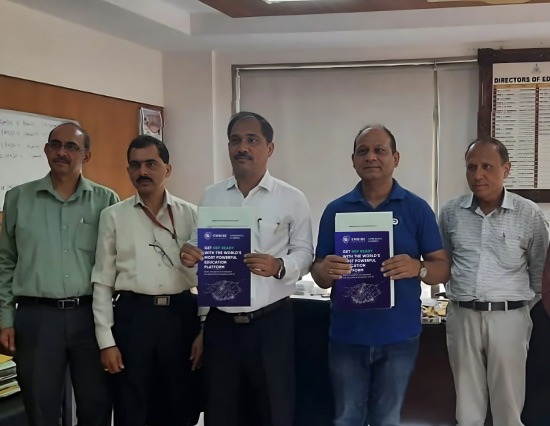 Edtech platform EMBIBE partners with Goa Govt. to power AI-led learning in 100% state-run & aided schools
Through the partnership, 1 lakh + students & 3,000+ educators from 594 government-run and aided schools across Goa will reap the benefits of EMBIBE's AI-powered, NEP-aligned learning offerings
The collaboration is the first of EMBIBE's state-wide public sector learning intervention initiatives, set to benefit 40 million Indian students across 20 states during 2023-24 AY
Panaji (Goa), May 10, 2023: In a bid to provide access to the highest quality digital education to all students irrespective of their backgrounds, the state of Goa today announced its partnership with India's foremost AI-powered learning platform EMBIBE. As part of this tie-up, a total of 1 lakh+ students and 3,000+ educators from 594 state-run and aided schools will now be able to leverage the AI-powered platform for state-of-the-art content and adaptive learning.
This rollout is the first of EMBIBE's state-wide public sector learning interventions, which is set to benefit over 40 million Indian students across 20 states during the 2023-24 academic year.
The Chief Minister of Goa Mr Pramod Sawant approved the two-year Memorandum of Understanding (MoU) for the partnership, which was signed by Directorate of Education Mr Shailesh Zingde, in the presence of State Project Director Mr S S Ghadi, Assistant Director-Planning Manoj Sawaikar and Assistant Director, Academics, Mr Melvin D'Costa, and officials from EMBIBE. This tie-up comes close on the heels of Chief Minister Sawant's recent announcement that the state would place a special focus on education and implement the New Education Policy (NEP) as part of its Budget.
EMBIBE will enhance learning experiences in Goa's state-run and government-aided schools through its cutting-edge, patented product suite. Using EMBIBE, school teachers can now not only teach using state-of-the-art 3D content aligned to their textbooks but also individually remedy every student's performance using AI-led interventions. Advanced products like EMBIBE Lens and Virtual Lab Experiments will help make all curriculum textbooks smart textbooks overnight and turbocharge the application of science in every school.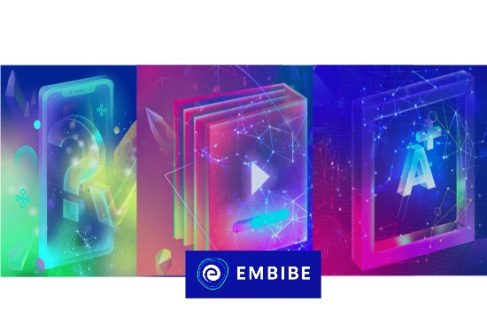 The EMBIBE Student app will empower students to do their homework, with the app doubling up as their personal guide and showing them ways to improve. It will also permit students of public schools access to a full-fledged edtech product earlier available at exorbitant prices through other companies in the market.
The EMBIBE product suite caters to the entire life cycle of students, teachers and parents and has been innovated to be accessible to all strata of schools irrespective of infrastructure.
Announcing the launch of the partnership, S S Ghadi, State Project Director remarked, "We are thrilled to partner with EMBIBE to provide cutting-edge AI-based learning experiences to all of Goa's students across state government and government-aided schools. EMBIBE has been a great support to our students and teachers even in the time of pandemic when teaching had to turn entirely digital. We are certain that EMBIBE will provide necessary guidance to several students from lower socio-economic backgrounds, and revolutionise the way our students learn with its 3D videos and high-resolution images. We believe that this partnership will be a game-changer for education in the state of Goa and a significant step forward in our ongoing efforts to ensure that all of our students have access to a world-class education."
Aditi Avasthi, Founder & CEO, EMBIBE, commenting on the partnership's key objectives, added, "EMBIBE has traversed a 10-year journey to make truly impactful education accessible to the people who need it the most. We are proud to power the entire State of Goa with our product suite encompassing beautiful content and powerful features that can save teacher time and increase the quality of education in and outside the classroom. We are keen to demonstrate how the interplay of AI, our rich features and 3D deep-tagged content can increase teaching & learning outcomes for the entire state. We hope to become knowledge partners to the State of Goa with a never-before-seen AI Command Centre that can drive efficient decision-making to enhance education."
 About EMBIBE
EMBIBE is the world's first AI-led edtech platform to deliver learning and life outcomes to students and empower teachers to be their best – built at the interplay of deep educational expertise, stunning content, design, AI and engineering. EMBIBE gives students access to the highest level of personalisation both in terms of relevant content delivery and getting the right guidance at the right time during their preparation. Teachers are enabled to teach every child 1:1 by the use of powerful algorithms and content libraries that will allow them to set individual homework for every child at the touch of a button. EMBIBE is a pioneer in the personalised education & learning outcomes delivery space with 5 granted patents & many publications to its name.
The platform caters to all school boards, test prep and govt. job exams, covering more than 400 exams in English, Hindi & 10 major regional languages. EMBIBE's impact & innovation have earned it numerous accolades including being recognised by the World Economic Forum as a Global Innovator in the education space, truly harnessing the power of AI to deliver student success. EMBIBE has also won the most prestigious internet awards including the Webby People's Voice Award 2022, as "The Best Platform in Learning & Education", and the Google Play Best Of Users' Choice Award 2021, as "The Best App For Personal Growth". EMBIBE also won the best AI Solution by Edtech Digest in 2021. To learn more about EMBIBE and its game-changing products, visit embibe.com
Read More Articles on Estrade Education
Edtech platform EMBIBE partners with Goa Govt. to power AI-led learning in 100% state-run & aided schools