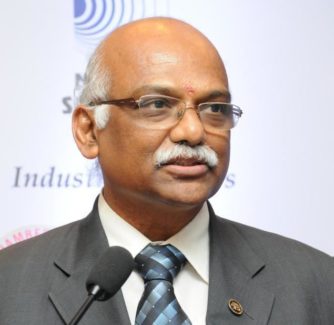 Mumbai, 7th June 2018: Electronic Payment Services (P) Ltd today announced its appointment of Rama Subramaniam Gandhi as Independent Director to its Board of Directors. The election has taken place in the company's Annual General Meeting dated 1st June 2018 in terms of the provisions of the Companies Act, 2013.
Shri R Gandhi is Financial Sector Policy expert and consultant. His areas of expertise include Banking & Non-banking Regulation, Payment & Settlement Systems, Financial Markets regulation and operations, Fin Tech and Currency Management. He was a Deputy Governor at the Reserve Bank of India (RBI) for three years from 2014 to 2017. He is a seasoned and accomplished central banker for thirty-seven years. He has wider exposure in financial sector having been a Board Member, Securities and Exchange Board of India (SEBI) and as a Board Member of public sector banks and development financial institutions.
Speaking on the occasion, Mr. Mani Mamallan, Founder & Managing Director, EPS said, "Mr. Gandhi is a senior & experienced professional, highly respected in the banking sector for his business and operational acumen. With continuous refreshment of the Board, we look forward to his guidance towards helping augment EPS in its next phase of growth thereby translating the mind-share to a growing market share."
EPS regularly engages with all its board members on topics of corporate governance and strategy implementations including its Board's composition. "The robust director selection process at EPS continues to equip the Board with the right blend of capabilities, perspectives, and experiences. This is the appropriate Board composition to support the execution of the company's vision to deliver long-term growth and sustainable value creation for shareholders," he added.
As EPS advances its strategic initiatives for accelerated growth for sustainable shareholder value creation, Mr. R Gandhi would bring unique depth of experience and expertise that will directly be relevant to EPS. On this, Mr. Gandhi commented, "EPS has a strong presence in ATM space and has plans to expand its presence in e-payment space. Both the spaces are in fact complementary. I have long been a keen observer of developments and had a hand in designing policies in these areas. I hope to see EPS grow strength to strength in this nationally important segment".
About EPS
Electronic Payment and Services (P) Ltd. is a leading Retail Banking Technology Service Provider founded in 2011, by veterans with over 150 years of combined experience in the banking, technology and retail payments industry in India. EPS was launched to address the demand for efficient, secure and technology driven products and services for the banking industry, to primarily address end-to-end Automated Teller Machine (ATM) Operations & Outsourcing Services, as well as provide a holistic range of ATM Managed Services and Digital Payment Solutions thus enabling banks to concentrate on core banking functions. In addition to ATM services, EPS also provides a best-in-classPCI-DSS certified Transaction Switching Solution, which can drive all industry standard front-end payment devices. In the fast-moving digital payment domain, EPS intends to be an end-to-end Technology Solutions Provider for banks.
EPS built a firm reputation on delivering results, reliability and dependability, having successfully deployed over 6000 ATMs for 26 banks in urban and rural locations across India, in support of the Ministry of Finance (Govt. of India) led mission to drive 'Financial Inclusion'.
With added numbers in the portfolio, EPS will now be handling more than 10000 ATMs in India and continue to deliver trust, reliability and relentless service to its eco-system.
Along with a wide array of footprints in India, EPS has expanded to the APAC region in 2017 forming a wholly owned subsidiary of Electronic Payments and Services (India) known as Electronic Payment Australia PTY Ltd. EPAPL provides a comprehensive suite of payment solutions and services that cater to ATM, PoS, E-commerce, payment cards and all other digital mediums of transactions.