Eros International Plc, a leading global company in the Indian film entertainment industry, announced today that Eros Now, its digital over-the-top distribution service, has now expanded availability of the service to the Apple TV media platform.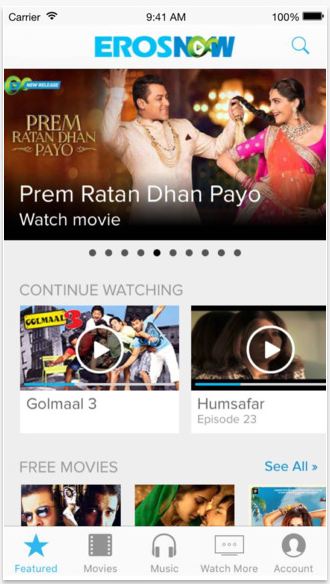 Eros Now is now showcasing its extensive repository of Bollywood and regional language films and music videos, across Apple TV's presence in 80 key countries including the USA, UK, India, Canada, Australia, and Malaysia. The Indian entertainment service includes features such as: full length movies, thematic curated playlists, English and Arabic subtitles for movies, music video playlists, regional language filters, video progression (users can continue watching a title they were watching on TV, mobile, tablet or computer) and access to a Watchlist of titles discovered on any media platform that Eros Now is available on. Subscribers can now download the Eros Now app through the Apple TV App Store.
Commenting on the announcement, Rishika Lulla Singh CEO – Eros Digital said, "We are pleased to announce Eros Now's further expansion to additional media platforms offered by Apple, an illustrious global brand. With the success of our iOS application on iPhone and iPad, we are strengthening our connection to our subscribers who are using Apple's products everyday by now bringing a compelling array of Bollywood and regional language content to their living room."
The Apple TV association reaffirms Eros Now's presence across top streaming devices. The app is available across most smart TV platforms including Android TV, Samsung, Chromecast and Amazon's Fire TV.
Source: FPJ