– Book Your Ultimate Travel Getaway Now
– Camps Operational From 15 May 2016 to 10 October 2016
How about starting and ending your day amidst the highest levels of luxury, all complete with delectable cuisines and personalized services? The Ultimate Travelling Camp is back with the widely popular Chamba Camp Thiksey and Chamba Camp Diskit in Ladakh, an unbelievable mix of opulence and nomadic lifestyle set against carefully selected dramatic landscapes that prove luxury and nature can coexist beautifully.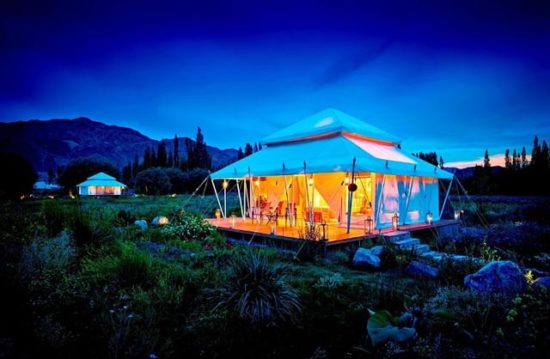 Introducing the concept of 'Glamping' or luxury camping to discerning travellers in a unique way, at TUTC, one can closely experience the peculiarities of Ladakhi culture, while enjoying the luxury of glamorous abode. For those looking to explore the unexplored, one can select and customise their trip from an array of carefully selected itineraries from 1 night, 3 nights, 4 nights and 7 nights packages.
The mobile luxury camps will be operational from 15 May 2016 to 10 October 2016, which is considered to be the most favourable time to enjoy Ladakh.
For package details, visit http://www.theultimatetravellingcamp.com/
TUTC's luxurious camps in Thiksey and Diskit in Ladakh offers exceptional services such as unlimited Wi-Fi at the Reception Tent, 24/7 security and paramedic on site, 24/7 electricity, boutique and library at Reception Tent and service of a personal butler service. Each tent has an ensuite bathroom with access to 24 hours running hot and cold water. Each of these tents is triple layered and guests can climate control their tent temperatures to their individual preference. TUTC's in-house Chef uses garden fresh ingredients to prepare world class cuisine – regional, Indian and International that suits the taste of the travellers. One can add various elements to their itinerary to make this experience truly unique, such as exploring the enchanted Pangong Lake, Rafting down the River Indus, a session with the Oracle, a cycling tour of the Warila Valley, enjoy the ancient sport of Polo, and a lot more. The Ultimate Travelling Camp can be customised for special occasions for friends and families – a celebration, a wedding, an anniversary, or 50th birthday.
Experience Ladakh in all its Splendour With TUTC's Luxury Camps