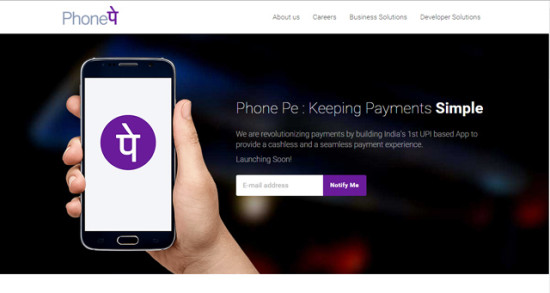 Flipkart today announced the acquisition of PhonePe, a Bangalore based mobile payments company. Co-founded by ex-Flipkart employees Sameer Nigam and Rahul Chari, PhonePe is building India's first Unified Payments Interface (UPI) based product.
UPI, planned to go live in the April, will allow users to transact using their unique identification and mobile phone number or virtual payments address without sharing any other bank details. In contrast to the present payments process, which involves entering numerous account/card details and multi-level interventions, UPI will provide a highly secure hassle-free digital payments experience.
Anyone holding an active bank account can easily perform instant transactions by simply using their mobile phone.
Commenting on this acquisition, Binny Bansal, CEO, Flipkart, said, "Payments has been one of the biggest hurdles for mass adoption of online shopping in India. UPI has the potential of transforming the entire payments ecosystem in the country.
The acquisition of PhonePe is in-line with Flipkart's focus on driving innovation on the payments front. I am delighted that two Flipkart veterans – Sameer and Rahul are at the helm of this initiative."
Sameer Nigam, Co-founder, PhonePe commented, "PhonePe's mission is to significantly improve the online and offline digital payments experience for millions of Indian customers. We are really excited to merge with Flipkart and get access to one of the largest consumer bases in the country, which will allow us to realize our vision at a much larger scale"
The PhonePe team will transition to Flipkart but will function as an independent business unit.
Flipkart acquires payments company PhonePe