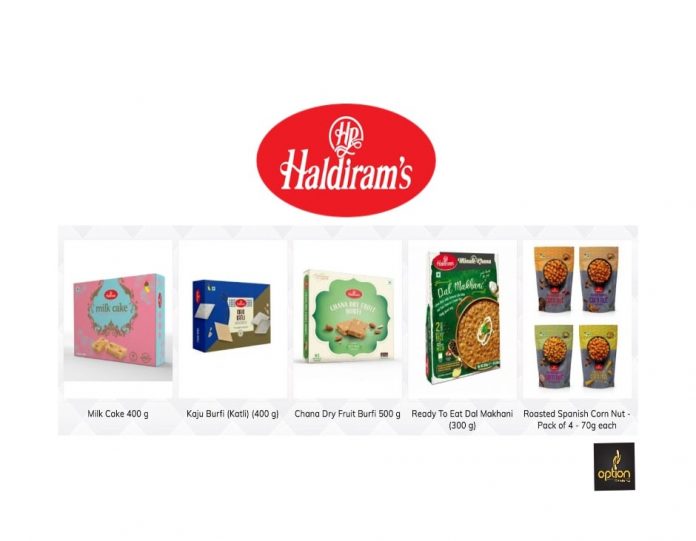 New Delhi: After the challenging lockdown, the pandemic has stirred a feeling of gloom across the nation. India is recovering from post lockdown blues, and once again, Haldiram's is here to do its bit in bringing smiles to the people.

Haldiram's has launched its latest campaign, 'Don't Wait. Vaccinate.' to lead the charge of social initiatives as one of the most loved brands in the country. The campaign offers a delightful incentive discount for the ones who are vaccinated. This campaign is conceived and conceptualized by Option Designs.
It is a factual statement to make as the brand can propel people to get vaccinated as soon as possible. It is not new for the brand to initiate social drives as earlier they came up with 'Delicious Bhi, Dooriyan Bhi' social distancing campaign to spread awareness and create a change in attitude towards the appropriate behaviors during these challenging times.
'Don't Wait. Vaccinate.' campaign carries on the same tradition, reflecting authenticity in the purpose-oriented messaging from one of the most loved food brands. Like previous campaigns, this campaign is bound to stir a positive feeling, which will prompt the taste loyalists to get vaccinated and celebrate it with delicious food at Haldiram's outlet. Ashish Agarwal, MD, Haldiram's informed that the brand is always contributing towards ensuring the good health and wellbeing of people, and in accomplishing the same, is always excited to stir conversations around social drives. 
It is heartening to know that the world's second-largest snack brand is committed to doing its bit for the greater good of the people. So far, the response to the campaign has been nothing short of amazing. However, as per Mr. Rajat Rastogi, Marketing, it is essential as a brand to take a strong position to gratify and inspire our customers to get vaccinated and do their bit in defeating this pandemic. 
Haldiram's philosophy is people first, and with the same approach, they have galvanized their position in the market, once again with this campaign. Rahul Gandhi, MD Option Designs, added that the campaign is a strategic move to help in the vital initiative of vaccinating India tastefully. Option Designs is proud to be associated with such a cause and a brand that stands for authenticity, taste, and beliefs.  
One of the many reasons that Haldiram's can dominate the Indian market in the category is its ability to connect with the audiences on an intimate level. The campaign is an extension in the same direction to let everyone know that a brand rules the heart with taste and care. 
About Haldiram's
The Great Indian Heritage
Bikaner 1937
Delhi 1982
USA 1993
Haldiram's began as a tiny shop in Bikaner, the land as famed for its savories as for its leather faced pipe players and fierce warriors. By 1982, Haldiram's had set up shop in Delhi and the capital begun to stop by and take note of the savories and sweets. It was word of mouth that grew the business manifold over the next decade till Haldiram's stood as a food outlet that was synonymous with taste, hygiene and innovation.
USA was the first market we started exporting to, thanks to the large Indian population there. We began with about 15 products, all savories, because they are favorites among Indians.
What began as a small town enterprise in India is today a global phenomenon. Haldiram's is a way of life for Indians no matter which country they live in. And the countries they live in are also fast developing a penchant for these products.
Today Haldiram's is a 4 million dollar brand that is a familiar sight on shelves across the USA, Uk and the Middle East. Non Resident Indians carry back packets of Haldiram's along with the farewells and nostalgia. This is the name that they look for as they scan shops for familiar scents and sights.
For over sixty years now, we have been unifying the palate of India. It has not been the simplest of tasks; Indian speaks different tongues and has different taste buds to match. However, today, we are a name that has become synonymous with the taste and quality not only within India but the world over.
Today Haldiram's occupies considerable shelf space at prominent supermarkets the world over: Tesco, Sommerfield, Sipneys and Carrefore. From traditional Indian sweets and savories to the more international chips, cookies, nuts and sherbets, our products are fast capturing the imagination of people making it possible for us to aim for deep penetration in the Middle East, East Europe and parts of North Africa.
Haldiram leads Vaccination drive, tastefully!