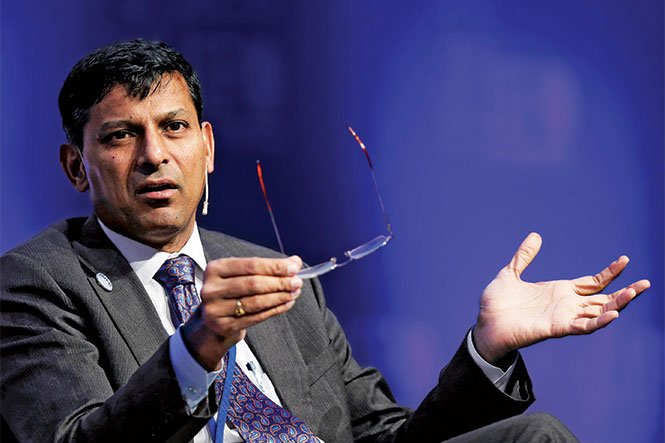 Mumbai: RBI Governor Raghuram Rajan said the central bank has been "wise to disregard" calls for deeper rate cuts and hoped his successor will "stay the course" in fighting inflation, within days of announcing his decision against a second term.
Defending his continued fight to bring down the consumer price inflation to low single-digits from high double-digits during his three-year tenure, Rajan also took on the "highly-indebted industrialists" saying banks were charging them high rates due to a 'premium' for the risk they may not repay.
Remaining his outspoken self even when he is on his exit path, Rajan said he would never abandon fight against inflation for growth and hoped that the next Governor and the new Monetary Policy Committee "will internalize the frameworks and institutions that have been set up, and should produce a low inflation future for India."
In his first public appearance after making public his decision against a second term when his current tenure ends on September 4, Rajan put up a strong defence of his monetary policy stance.
"The fact that inflation is fairly close to the upper bound of our target zone, today suggests we have not been overly hawkish, and were wise to disregard advice in the past to cut more deeply," he said while delivering a lecture at the Tata Institute of Fundamental Research here.
Rajan, a monetary economist credited to have called the 2008 global financial crisis, further argued that "if a critic believes interest rates are excessively high, he either has to argue the government-set inflation target should be higher than it is today, or that the RBI is excessively pessimistic about the path of future inflation.
"He cannot have it both ways, want lower inflation as well as lower policy rates."
Stating that perceived short term trade-off between inflation and growth is not sustainable, as is the popular belief is, Rajan said a boom-and-bust cycle will not be good for the economy, because if the economy is producing at potential, we would quickly see shortages and a sharp rise in inflation. This means that a central bank can never abandon their inflation fighting objective.
Exuding confidence that his successor "will stay the course" in setting up the new MPC into an institution, Rajan said a "low-inflation future" awaits India when the government will be able borrow at low rates, and will be able to extend the maturity of its debt.
"The poor will not suffer disproportionately due to bouts of sharp inflation, and the middle class will not see its savings eroded."
He also lauded the government for taking the "momentous step" of both setting a consumer price index-based inflation objective for the Reserve Bank as well as setting up an independent monetary policy committee (MPC).
Stating that one can't fool all the people all the time, Rajan said indeed there are some short-term benefits of a low interest rate regime by way of a short run trade-off between inflation and growth such as a boom in the stock markets, but "if the economy is producing at potential, we would quickly see shortages and a sharp rise in inflation, leading to a bout of boom and bust cycle in the economy.
"But if contrary to expectations, the central bank is committed to keeping inflation under control, it may then be forced to raise interest rates substantially to offset that temporary growth. But the boom and bust (arising from this) will not be good for the economy, and average growth may be lower than if the cut had not taken place.
"This is why modern economics also says there is no long run trade-off between growth and inflation and the best way for a central bank to ensure sustainable growth is to keep demand close to potential supply so that inflation remains moderate, and the other factors that drive growth, such as good governance, can take center stage" Rajan argued.
At the same time, Rajan was quick to add that the RBI does not focus on inflation to the exclusion of growth. If inflation rises sharply, say due to a sharp rise in oil prices, it would not be sensible for a central bank to bring inflation within its target band immediately by raising interest rates so high as to kill all economic activity.
Instead, it makes sense to bring inflation back under control over the medium term by raising rates steadily to the point where the bank thinks it would be enough to bring inflation back within the target range.
Noting that three years of inflation fighting has created a stable macro-environment, Rajan, who took over when the rupee was falling like nine pins and Balance of Payments was on a precarious position, said a "stable rupee has given investors confidence in our monetary policy goals, and this stability will only improve as we meet our inflation goals."
Listing the long-term benefits of a low-inflationary economy, the Governor said a stable rupee can increase investors confidence in our monetary policy goals, foreign capital inflows will be more reliable and increase in the longer maturity buckets, including in rupee investments.
Rajan further said an inflation-focused monetary policy framework means "better coordination between the government and the central bank as they go towards the common goal of macro stability. Further, the central bank can serve the economy and the cause of growth best by keeping inflation low and stable around the target given by the government."
"We can never abandon inflation to focus on growth", Rajan said, adding "the best way the monetary authority can support growth over the medium-term is to anchor inflation at low levels so that policy rates can also be low."
Source: Business Zoom
Hope successor will 'stay the course' on inflation: Raghuram Rajan