Gurgaon: HouseFull International Limited, India's leading furniture brand today announced the relaunch of their new E-commerce platform with its new website Housefull.com. The enhanced digital operations with the furnishings' marketplace will assist the organisation to connect with new customers at a rapid pace. With this development, HouseFull is all set to effectively emerge as one of the most prominent omni-channel retailers in the country with choicest collection of furniture and furnishings.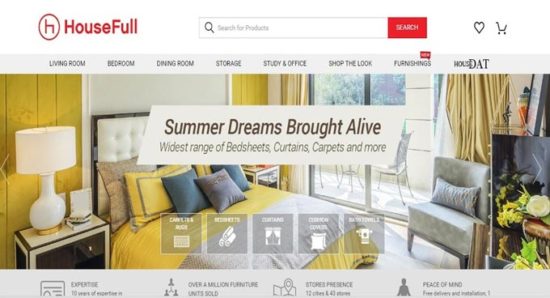 Housefull.com brings a wide range of design-led beautiful furniture options and innumerable furnishings through their e-commerce store with nationwide deliveries to cater to consumer needs for a complete home. It is a one-stop shop for all furniture needs, offering a plethora of stylish furniture collection ranging from Sofa Sets, Dining Tables, Bedroom Sets, and Wardrobes to magnificent furniture accessories such as Shoe Cabinets, Book Cases, Coffee Tables and more. The furniture pieces are crafted with supreme quality &innovation and their collection of furnishings has brands that beautifully redefine your luxury spaces.
Mr. Akshay Chaturvedi, CEO and Co-Founder of Housefull.com said, "We have aggressive plans to scale up our business in the upcoming times to become the leading omni-channel retailer with specific thrust on e-commerce. Very soon we are going to launch our mobile app for Android and iOS users. This is yet again an attempt to reach out to our customers and empower them to shop from wherever they are. Our consumers' search for a tasteful home décor should end here." Mr. Akshay further added, "With over a decade of expertise in making furniture, HouseFull has helped numerous customers in making their homes more aesthetic and beautiful. Now we are also offering our own online advisory through HouseDAT – A content-rich blog that offers buying guidance, décor advice & tips and more."
HouseFull.com has products that are not just beautiful to behold with unique colours & design combinations, but also have an international flavour while retaining the needs of the Indian consumer and they come at extremely delightful prices.
Housefull International Ltd. is present across cities and towns with over 40 offline stores. It provides the best-in-class furniture solutions with quick delivery and after- sales service. Now with their e-commerce store offering a wide range of both exquisite furniture & furnishings, they are all set to become the largest omni-channel retailer in this sector to cater to consumer needs for a complete home.
HouseFull Successfully Relaunches their New E-commerce Platform