Housing.com introduces 'Construction Update' and 'Legal Approval' feature for Home Buyers
Will allow consumers to keep track of the timeline of a project under construction and legal approvals attained by the developer
Housing.com, India's most innovative real estate platform, today introduced 'Construction Update' – an industry first feature that will provide homebuyers the complete timeline of a project under construction. The construction status of a project is derived after a rigorous verification process that details the stage of construction and subsequently displays the relevant information. The feature will also allow them to track the status of all the necessary legal approvals required for the timely completion of a project. 'Construction Update' is currently live for over 2000 projects across select localities in Mumbai, Pune, Delhi-NCR, Kolkata, Bangalore, Chennai and Hyderabad, and 'Legal Approval' is available for over 200 select projects in Pune, Mumbai and NCR.
Commenting on the new feature, Snehil Buxy, Chief Product Officer, Housing.com said, "For most home seekers, buying a home is an emotional decision besides the monetary implications, and is often considered a once in a lifetime decision. Our focus has always been to build a transparent platform that consumers can trust to buy and sell homes. These features will empower home seekers to monitor the construction progress and legal approvals status of a project. This will not only help solve the pain points of a consumer interested in buying their dream home but also bring convenience to them."
How it works?
When consumers search for a select locality in a particular city, the projects available in that area will be displayed. On exploring a project further, home buyers can view a detailed breakup of buildings/towers and their respective construction stage, categorized under four pillars – Excavation, Basement, Floors and Finishing. They can also check all the legal approvals attained by the builder for that project.
Click here to view.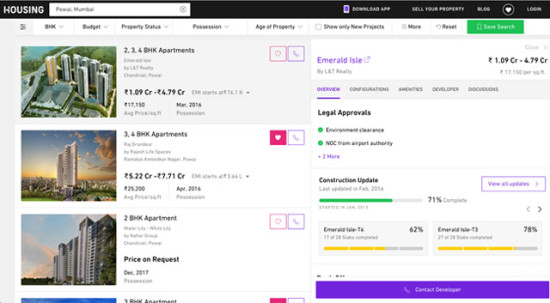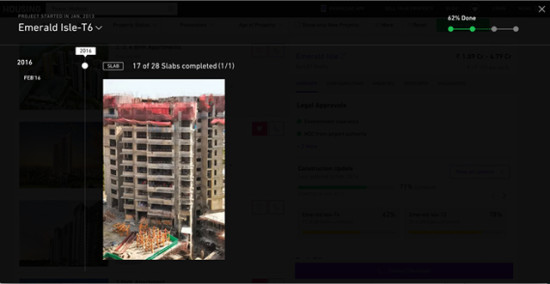 Upon completion of a project, the status will automatically shift into a 'Ready to Move' phase.
Housing.com introduces new features for Home Buyers