HP unveiled its first large-scale 3D printer on Tuesday, saying it's 10 times faster and half the cost of the competition.
The HP Multi Jet Fusion 3D printer costs $130,000, which sounds expensive but is actually cheaper than competing large-scale 3D printers. The price of the 4200 model, which can print 3D objects in bulk, can reach more than $200,000 depending on configuration, HP said.
To start, Palo Alto-based HP is rolling out with one color: black nylon. But the company says it will continue to adopt more colors, eventually enabling full-color plastic printing.
Currently, the 3D printing sector is estimated to be a $5 billion industry. But with the new printer, HP CEO Dion Weisler said in March that the company hopes to create new markets in the $12 trillion manufacturing industry.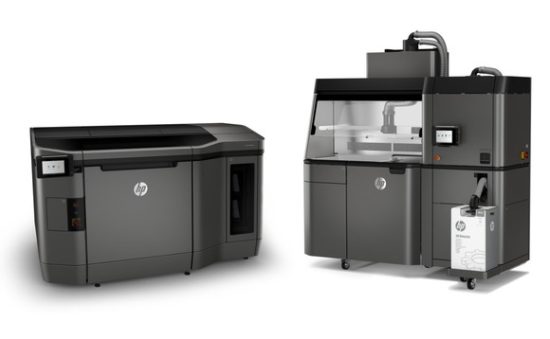 "When you solve the problems of speed, quality and cost with the breakthrough economics, it really does create an inflection point where digital manufacturing makes much more sense than traditional manufacturing," HP CEO Dion Weisler told CNBC.
HP's sales have been steadily declining over the years as its core products—personal computers and standard printers—have waned. When the company split into enterprise and consumer companies, the consumer business side's future looked particularly troubled. The company's shares have dropped around 23 percent in the past year and it is planning to lay off 3,000 workers by the end of 2016.
In 2014, when said would enter the 3D printing market, it also partnered with 3D printing company Shapeways, which has already received HP's new printer.
"This increase in speed could equate to the ability to move from same-week shipping to next day delivery," Peter Weijmarshausen of Shapeways, said in a blog post on Tuesday.
The question will be whether HP can gain enough market share in a somewhat crowded space. Though HP's printer is cheaper than competing printers from EOS and Stratasys, which can retail for as much as $700,000, HP is still a newcomer in the space.
Silicon Valley Business Journal
HP reveals high-speed 3D printers with jet fusion tech