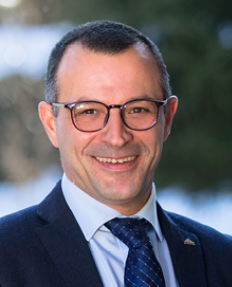 Dr Dimitrios Diamantis – Dr Dimitrios Diamantis, Dean of Graduate Studies at Les Roches talks about the impact on the hospitality sector during COVID19
How the education is shaping up in the times of COVID19?
This situation is challenging for all educational institutions worldwide, especially international schools like ours which accommodate students on campus. In this complex context, we are committed to ensure the continuity of studies of our students through the delivery our curriculum via remote learning. We have created over 500 videos of content accessible through an online platform which are completed by online Q&A session for students in all programs. This method allows us to have a constant delivery of learning materials to our students while also mentoring them in such challenging times. In terms of theoretical modules, it is easy to implement an alternative solution to face-to-face classes. However, for practical arts which is more complex, postponements and compensatory sessions are considered.
Following the instructions from local authorities, at the exception of catering, accommodation and student services including health care for students who were not able to go home and are staying on campus, we have temporarily closed our campuses until further notice. A reinforced hygiene and health precaution and controls have been implemented to ensure the safety of the students.
During this situation, we are making sure to go hand in hand with each of the students to find the best individual solutions to cope with the situation. Hospitality is all about passion and personalization is at the core of our school since its creation thus we will continue to remain true to our values but shaped in a different format.
Future of hospitality industry and how it will impact the students graduating from your end?
According to several CEOs of international hotel chains such as the Hilton Hotels & Resorts, AccorHotels, and Marriott International, the demand is expected to go back up by the 3rd of 4th quarter. While the situation is evolving, players in the industry are already planning their recovery strategies and future forecasting.
Once the world is safe to travel again, it is most likely individuals will start travelling again whether it is for business or leisure purposes. Based on the data of Chinese online travel platform from Ctrip and Fliggy in China, we can see that citizens are really looking forward to travel once the outbreak ends.
With the travel and tourism industry being among the largest industries worldwide, we do not expect a decrease in employment opportunities for our graduating students. Our current rate of employability is quite high, 94% of our career-seeking students have one or more job offers on graduation day and one out of three alumni become entrepreneurs and we expect this number to remain similar regardless of the situation.
How soon you think the hospitality industry recover?
Based on the several recoveries of the industry after previous tragic events, such as the incident of 9/11, it is fair to assume that there is nothing to worry. I expect a slow recovery taking place within the next 3 to 6 months. Indeed, the hospitality industry counts two categories of customers: business and leisure.
These customers, who had to postpone their travels, are expected to travel again once they feel safe and the airlines are back to operating normally. By the beginning of next year, I would forecast the demand to grow back therefore it is crucial for businesses to already start reconsidering their plan for the forthcoming wave of customers. A reconsideration of their product and service offerings as well as a re-evaluation of their priorities is also suggested in such period.
About Dr. Dimitrios Diamantis:
Dimitrios began his academic career in 1998 as Associate Lecturer at Bournemouth University. The following year, he joined the faculty of Les Roches Switzerland, where he would go on to supervise the launch of the institution's first MBA programme.
Dimitrios was appointed Dean of Graduate Studies at Les Roches Global Hospitality Education in March 2016 and has previously taught as Visiting Lecturer at KDU University College (Malaysia), Institut Paul Bocuse (France) and HTW Chur (Switzerland), and acted as External Examiner for several UK universities. Since 2014, he also serves as a member of the judging panel for the Greek Tourism Awards. He speaks English and Greek.
For more information: http://www.sommet-education.com/study-with-us/les-roches/