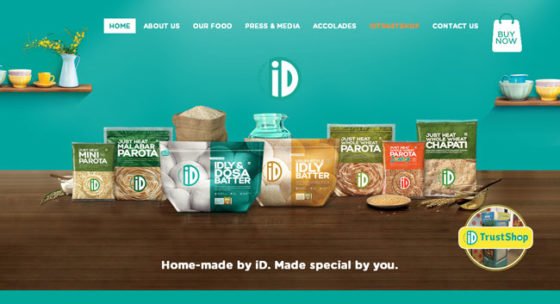 Venture capital (VC) firm Helion Venture Partners-backed iD Fresh Food (India) Pvt. Ltd, popular for its packaged idli and dosa batter, has initiated talks to raise at least Rs.100 crore from private equity (PE) funds, according to two people aware of the development.
The company, started by IIM Bangalore alumnus P.C. Musthafa, sells various packaged ready-to-cook products such as idli and dosa batter, Malabar parotas and whole wheat chapatis, under the brand iD Fresh.
"They are looking to dilute a significant minority stake to incoming investors. The firm is in talks to hire an investment bank to help them raise funds from PE firms," said one of the persons cited above, requesting anonymity as he is not authorized to speak to the media.
VC firm Helion Venture Partners had invested Rs.35 crore in the Bengaluru-based firm in October 2014. "Helion had picked up around 25% stake in the company, valuing it at over Rs.140 crore. Then the company's revenues were around Rs.40 crore. Today, they have a top line of over Rs.100 crore," the person added.
Helion Venture Partners declined to comment on the development. Emails sent on Friday to Musthafa and iD Fresh did not elicit any response.
iD Fresh started in 2006 as a small store selling idli and dosa batter, operated by Musthafa and his cousins. Today, it has seven factories manufacturing and packaging various products and retails these in several cities across south and west India such as Bengaluru, Mumbai, Chennai, Hyderabad, Pune and Mysuru. The company has also expanded overseas to Dubai.
"The fund-raise will help iD Fresh launch more products. They are already planning to add products such as rava idli and vada batter, and they also have plans to add dairy-based products such as paneer," said the second person cited above, also on condition of anonymity.
Funds will also be used to increase their distribution reach and include more retail stores in their network, while also helping them to enter newer geographies within the country, he added.
"They have also come out with a unique distribution model called iD Trust Shops, which are unmanned self-service stores that are put up in large residential complexes. These provide customers easy access to their products 24×7, and it is something that they are looking to scale up," he said.
Other firms in the packaged foods category are also expanding their businesses and have raised funds from PE investors for the same.
iD Fresh Food in talks with PE funds to raise Rs100 crore