MoU signed with the Ecotourism Society of India (ESOI)
New Delhi: The Union Ministry of Tourism signed a Memorandum of Understanding (MoU) with the Ecotourism Society of India (ESOI) on to augment responsible and sustainable tourism in India.
Suman Billa, Joint Secretary, Tourism and Steve Borgia, Honorary President, Ecotourism Society of India signed the MoU on behalf of their respective offices in the presence of Vinod Zutshi, Secretary, Ministry of Tourism.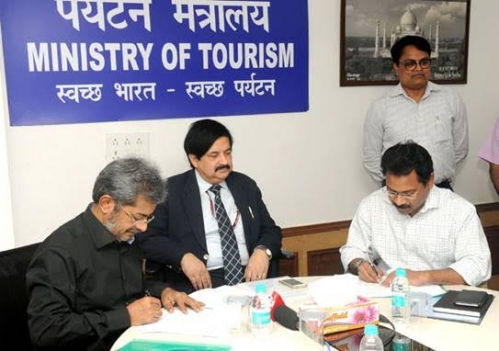 The Ministry of Tourism and the Ecotourism Society of India started the process a couple of years ago when they formulated and published the Sustainable Tourism Criteria for India (STCI) and carried it to the grass root level through series of advocacy workshops.
The Ecotourism Society of India (ESOI) was established in 2008 at the behest of the Ministry of Tourism as a non-profit organization to promote environmentally responsible and sustainable practices in the tourism industry across the country. This national body was formed by a group of eminent professionals from the tourism industry, government, parliament and environmentalists and conservationists.
ESOI has, over the past eight years, attempted to spread awareness and educate tourism service providers as well as local government officials on the urgent need to ensure sustainable tourism practices. 13 workshops have been conducted across the country in this context
ESOI works closely with both central and state government bodies as well as relevant institutions and individuals to facilitate and support synergy of policies, initiatives and activities relating to responsible travel.
The Ministry of Tourism, Government of India has officially declared ESOI as their partner in helping develop policy guidelines, code of conduct and ethical practices for sustainable tourism, to position India as a global ecotourism destination embracing responsible tourism guidelines across the various sectors of tourism hospitality, transport, aviation etc.
As per the MoU, ESOI will prepare a 10-year road map for advocacy and certification under the Sustainable Tourism Criteria for India.
The road map will be based on regional workshops held with relevant stakeholders across the country.
ESOI, through stakeholder consultations will formulate criteria and classification guidelines for certification for the accommodation and tour/travel operators within the STCI guidelines and later develop standards for destinations, which will also be in sync with the internationally accepted Global Sustainable Tourism Criteria.
Image: Joint Secretary, Ministry of Tourism, Suman Billa and the President, ESOI, Steve Borgia signing MoU in the presence of the Secretary, Ministry of Tourism, Vinod Zutshi, in New Delhion Tuesday/PIB.
India creates sustainable tourism partnership