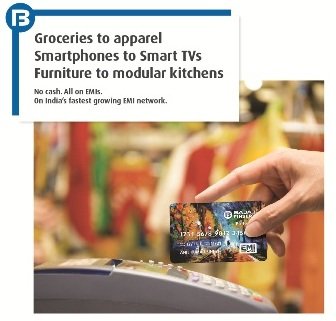 Pune, Maharashtra, India/News Voir//– With increasing monetary transaction options, India is growing towards becoming a cashless economy. Though a complete adoption of these easy methods might take time, the year-on-year increase in cashless transactions proves to be a positive sign for the country. By the time, the nation adapts to the changing scenario, India's leading consumer finance lending company, Bajaj Finserv went a step ahead to fasten the process. The company recently introduced India's fastest EMI network, providing the country with a convenient and affordable alternative.
To simplify the otherwise complex process, the Bajaj Finserv EMI Card comes with a pre-approved loan in your wallet that allows a smarter way to buy consumer durables, digital and lifestyle products. All one needs to do is to select the EMI plan and swipe the card. An instant approval subject to the amount is pre-approved. The company has partnered with multi leading manufacturers & retailers to offer lowest down payment EMI financing options. This EMI financing is available across 817 locations and covers close to 30,000 retailers and over seven million customers enabling efficient cash free alternatives to customers and retailers for hassle-free purchases.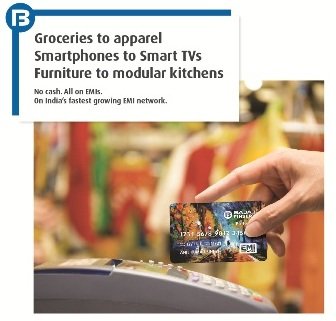 One can apply for EMI cards online and seek for 'instant approval' on submission of few primary documents. With the approval code, the product becomes yours, all at an extremely low rate of EMI.
The Bajaj Finserv EMI network is developed to cater to the wider needs of consumers across varied geographical locations. The company focuses in ensuring the benefits of EMI card networks reach to the small towns and places with low infrastructural development. The brand is driven by the mission to ensure ease of transaction under various favorable and non-favorable circumstances.
It has established close to 65 percent of EMI card franchise across Tier II cities to offer unique opportunities to a wider section of society. It helps the customers to shop as per their convenience  and has also rolled out this unique propositions with various partner.
With these EMI cards, the consumers can now afford everything from consumer durables, furniture, apparel, footwear, eyewear, lifestyle products, digital products, clothes & accessories, travel & holiday and even groceries.
Some of the popular multi-brand retailers like Reliance, Croma, Vijay Sales, Viveks, Girias, Future Group stores (Big Bazaar Central Brand Factory), brand outlets such as Apple, Samsung, Sony, Arrow, UCB, MegaMart, Globus, Adidas Group, Lawrence and Mayo, Arrow, Zodiac, Arvind Brands, Me and Moms, Baby Oye and Cox and Kings have come on board with Bajaj in its endeavor to spread the happiness of gifting this year end. Also, the company has also tied up with local retailers to reach out to the wider pockets of the country. Bajaj Finserv is dedicated in its endeavors and committed to its mission of installing a cashless society with easy, convenient, hassle free transaction options.
India's Fastest EMI Network from Bajaj Finserv