India's fastest train Gatimaan Express to start its journey today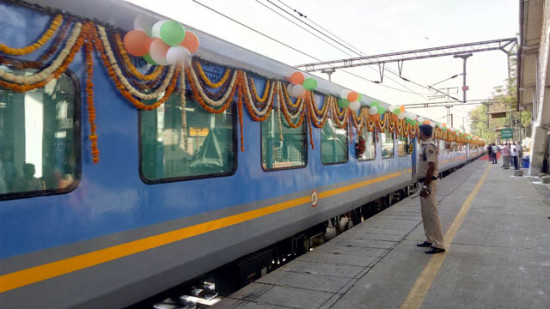 New Delhi: India's first semi-high speed train christened as Gatimaan Express capable of running at a maximum speed of 160 KMPH is all set to be introduced on the Indian Railway system from Tuesday, officials said.
The train will run between H. Nizammuddin station and Agra Cantt. Station.
The train will be flagged off by Railway Minister Suresh Prabhu.
The train will be flagged off tomorrow i.e. 5th April, 2016 from H. Nizammuddin Railway Station by the Minister of Railways Shri Suresh Prabhakar Prabu in the presence of several other dignitaries. The launch of this train heralds a new era of high speed rail travel in India. Railway Minister has been emphasizing about increasing the speed of both passenger and goods train in his budget speeches, read a government statement.
The on board catering on this train is being organized by railway PSU namely Indian Railways Catering and Tourism Corporation (IRCTC).
IRCTC has made arrangement for deploying train hostesses also on board the train. This train will see improved catering and will have options of different kinds of cuisines. Another unique feature of this train is free of cost on board entertainment facility provided by an agency MyFreeTv.in .
Under this facility, passengers can view various entertaining videos during travel on their smart phone, tablets or laptops even without internet connection through WiFi.
The coaches to be used in Gatiman Express are new LHB coaches turned out by Rail Coach Factory(RCF), Kapurthala. These coaches have been fitted with bio-toilets and are fit to run at 160 kmph. These coaches have also been fitted with balanced draft gear couplers for smooth ride. The passenger amenities have been enhanced by provision of soap dispenser and auto genitors in the toilets of trains. For making the coaches free microburst, system has also been fitted in the compartments, read the statement.
The beautiful sceneries have been pasted inside the coaches for better aesthetics. The exteriors of these coaches have also been given a new look by different colour scheme. The flooring of the coaches has been given marathon Shine treatment for cleaning and also given flooring a bright and shiny look. The train will be hauled by an electrical engine WAP 5 with horse power of 5500 HP, it said.
In conjunction with this train, IRCTC has also arranged two different Agra Guided Tour Packages to coincide with the Time Table of this Gatimaan Express. One package is for the full day whereas the other package is for two days, the details of which could be seen at IRCTC website.
This Gatimaan Express will run six days a week except Friday and will carry the numbers 12050/12049 in its regular trips. On the day of inauguration, one inaugural trip between H. Nizammuddin and Agra Cantt. station will however be run as a special train with a number 02050 .
India's fastest train flagged off