Adhiraj Constructions is all set to revolutionize the infrastructure of a rapidly expanding Kharghar with new concepts
Mumbai: Architecture has witnessed a fresh new wave at the turn of the century. It is the visual art that has the power to define the look of a city – quite literally. Commercial high rises interspaced with frequent hoardings tell a different tale from rows of spacious bungalows spread across wide areas. For example, the former immediately paints a picture of Mumbai, while the latter reminisces New Delhi. Architecture picks up where engineering ends, being the more creative expression of the two.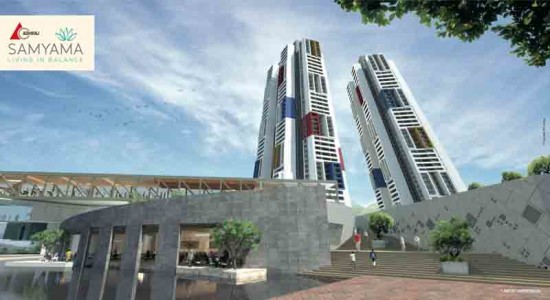 Urbanization has also led to growth in architecture in terms of fresh design and possibilities. One such innovation is in the form of swiveling towers. Adhiraj Constructions is all set to revolutionize the infrastructure of a rapidly expanding Kharghar with concepts like this one. Their tall towers are subject to be divided by swiveling designs, each footprint, creating a courtyard in the sky for every ten apartments. The towers are designed with an over-riding motive to provide neighbourhood spaces at various levels, allowing it a complete and expansive look. Each tower has been designed in clusters at  levels that swivel every 5 floors, thus forming open spaces along the height of the tower. Aside from serving as refuge floors, they can also be used as lounge areas. The eye-catching landscape also gives the residents aesthetic pleasure, as well as space for recreation, socializing and general entertainment. Windows overlooking these landscape areas provide monitoring opportunities for parents who can now send kids carefree of attendants. The neighbourhood clusters are localized gathering spaces, appropriate for all age groups within convenient reach. The barbeque you and your wife dreamed of hosting is now a possibility.
Innovation can also be at eye-level. While the lobbies are prepped with strong security, a helpdesk decorated with local artwork, a water body and adjoining landscape to the entrance lounge and waiting area isestablished. The spaces behind the entrance lobbies are optimized as play areas for kids – both wet and dry. Play webs and rubberized mounds are built to create creative and safe recreation. Even ground floor flat owners who are usually deprived of spectacular views have little to complain about with Adhiraj Constructions, who makes up for it in the form of private gardens with already-planted bamboos and hedges for a sense of privacy.
Not to miss out on Nature, Orchard Courts are conceptualized between buildings. Parks are populated with a plethora of rich fruit trees (citrus, guava, mango, chikoo and more) which extend into seating areas. The occasional chess table has also been interspersed with planters to form intellectually stimulating spaces for all ages. There are also dedicated zones for yoga and outdoor gym along the pedestrian path for the fitness-inclined.
Airy, open spaces and scenic view of hills in the backdrop are complimented with forward-thinking and future-ready designs. As is known, a design creates culture, culture shapes values, and values determinethe future. Unique with a land bank of over 300 acres, Adhiraj future plans include transfiguring Navi Mumbai, Karjat, NCR and Goa.
Innovation in Architecture by Adhiraj Constructions