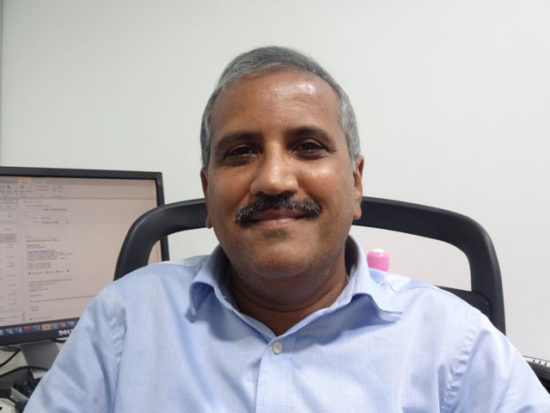 InsideView powers the world's business conversations. Its leading market intelligence platform helps sales and marketing teams quickly identify new opportunities and effectively connect with prospects and customers. InsideView is the only company that begins with the industry's most accurate company and contact data and enhances it with relevant, real-time business insights and authentic connections. More than 20,000 companies use InsideView data to find and qualify the best targets, engage with more relevancy, close more deals, and retain and expand accounts. In an interview with Estrade Mr. Sesha Rao, MD, Inside View India shared their strategy for Indian Markets, their expectations and future plans. Insights
---
Team Estrade: Kindly describe the products and solutions of InsideView?
Mr Sesha Rao: InsideViewis a market intelligence products and solutions provider. We triangulate data from over 40,000 sources and deliver actionable insights directly into sales and marketing applications. Providing access to the most updated company and contact data, real-time social and news insights, and information about business connections, we empower sales and marketing professionals to be relevant and engage with prospects, win more deals, and build and expand customer relationships.
Through our market intelligence platform marketing teams can enrich leads, build targeted campaigns, and maintain cleaner databases; and sales teams can find new prospects, engage them in relevant conversations, and grow existing relationships.
InsideView also provides direct integrations to CRM systems, from Salesforce and Oracle to Microsoft Dynamics CRM and SAP, and to marketing automation systems, like Marketo and Eloqua. Our Open APIs allow for custom applications, helping make other applications more valuable. Developers use our APIs to fuel CRM, marketing automation, predictive analytics, and a range of business applications. Our solutions increase sales and marketing productivity by driving marketingeffectiveness and deliver sales results.
"We are strategically positioned as the only market intelligence solution provider"
---
Team Estrade: How does InsideView add value to its customers?
Mr Sesha Rao: InsideView powers the world's business conversations. There are three things that underpin our market intelligence platform: accurate company and contact data, real-time insights, and access to valuable business connections. InsideView supplies more than 40 fields of actionable company and contact data, updated in real-time. Our customers use it to identify prospects, score and route leads, segment territories, do pre-call research, enrich leads, clean their CRM and marketing data, and more.
We pull, analyze, and curate relevant news and insights from tens of thousands of global news and social sources, ranging from the New York Times to Africa News Wire. InsideView insights are delivered within your CRM, by email, or through our APIs, to alert you to timely business triggers and take you inside your prospect's world, which allows you market and sell effectively to them.
We also consolidate your connections, and those of your colleagues, into a private network that shows how you're connected to your prospects, so you can get warm introductions to open doors and close deals. We let you leverage your connections from Outlook, Gmail, LinkedIn, Twitter, work and education history, reference customers, board memberships, and more.
"Driven by new age technologies like social, mobile, analytics, and cloud the market today is undergoing a phase of transformation"
---
Team Estrade: What is your marketing strategy in India?
Mr Sesha Rao: InsideView's marketing efforts in India are geared towards evangelizing sales2.0 concept in the market. Two important themes of this concept are integration of social selling into traditional sales and marketing process, and driving digital transformation of sales and marketing through CIO's/CMO's office.
We identify early adopters by participating in marketing events and partnering with prominent industry associations as knowledge partners. To lower the entry barrier, we offer pilots that clearly demonstrate the ROI of our solutions before the customer makes a longer-term investment. To handhold them further, we associate them with customer success managers that work to drive adoption of the new sales and marketing methodologies at the user level.These concentrated efforts are supported by a wider coverage of digital media marketing campaigns. Our focus is to be relevant to our customers' context.
---
Team Estrade: In the current market scenario, what percent growth is expected in India?
Mr Sesha Rao: Driven by new age technologies like social, mobile, analytics, and cloud the market today is undergoing a phase of transformation. Business leaders across functions are realizing what impact digital technologies can have on their efficiencies and performance. This realization amongst the top level decision makers, augurs well for us – as we are strategically positioned as the only market intelligence solution provider that leverages the power of data, insights, and connections to fuel the growth of our customers.Three of the top 10 IT/ITES companies are already our customers today. With the kind of traction that we are witnessing, I expect our customer base in India and APAC to increase to over 100 in the next one year.
---
Team Estrade: Future plans of InsideView
Mr Sesha Rao: At InsideView we try to keep our planning really simple – Understand customers' evolving business needs and keep innovating to deliver desired business outcomes. A key metric that we use to measure our performance is the ROI we deliver to our customers. We're receiving huge traction from futuristic businesses in India as well as other regions with APAC, and we're committed to expanding aggressively in this market.
InsideView powers the world's business conversations