ITB Berlin is pleased to announce its co-branded India show, Bharat International Tourism Bazaar, the first pure outbound show for the Indian market, to be held in New Delhi from October 3-6, 2016.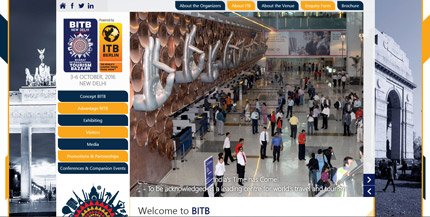 It is an alliance that focusses on the power of the Indian traveller, and the show will be organized by Cross Section Media, the country's first mover in B2B travel marts, initiated over twenty years ago. BITB promises to be B2B with a difference, and is expected to bring over 12,000 attendees, comprising industry and government, from within India and around the world.
Destination India is happening, with a growth in GDP of over 7.5%, a growth that is widely expected to continue for some years. Its travel and tourism is showing impressive gains – the first quarter of 2016 registered the fastest growth in air travel globally. Indian domestic air travel is expected to exceed 100 million movements, outbound exceeded 18 million last year, growing almost 15 to 20% year on year. The Indian market is eager to acquire new products and new destinations – BITB is the perfect platform for both old and new entrants into the Indian Outbound.
BITB will bring new streams of business, such as online and technology in travel, weddings, MICE, Luxury, and other niche segments, with corresponding buyers – these are the segments that are presently driving Indian travel and tourism. Traditional segments will also bring exhibitors and these would include cities and states, destinations, airlines and airports and hospitality. Big tickets partners will host strong accompanying conferences that will bring some of the finest thought leaders in these businesses.
ITB Berlin announces Bharat International Tourism Bazaar trade show