The latest budget of Karnataka has an outlay of Rs. 1,63,419 Crore for the financial year 2016-17, providing major boost to Agriculture, Education, Rural & Urban Development and infrastructure sectors. The fiscal deficit is expected to be Rs. 25,657 crore, which has been well controlled and at 2.12 per cent of GSDP.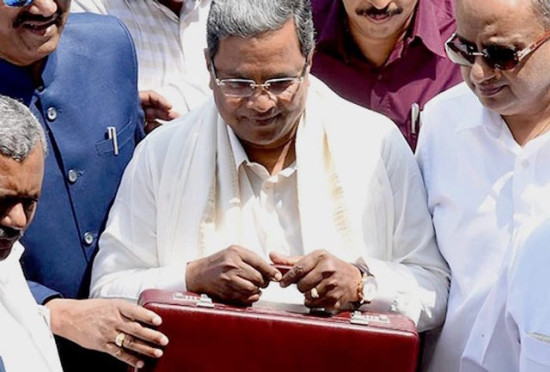 Positives:
A series of reforms/allocations towards agriculture and allied sector like abolishing agriculture income tax, allocation of Rs. 14,477 crores for development of water resources, Rs. 4034 Crore for Agriculture sector, Rs. 1886 for Animal Husbandry and Rs. 753 Crore for Horticulture sector, Development of 100 model agricultural villages under the "Suvarna Krishi Grama" programme is a welcome proposal towards development of agriculture sector.
A budgetary allocation of Rs. 4,344 Crore has been made for Agricultural department and Agri-clinic would setup in collaboration with IIM-B and GKVK agricultural university through PPP model.
Rs. 3,500 crore allocated for development of State Highways and upgrading of Major District Roads.
In 2016-17, a total outlay of Rs. 14,853 Crore is provided to Urban Development Department.  Of this, Rs. 6,044 crore is for works related to Bengaluru.
Water Supply and Underground Drainage Project for 110 Villages coming under BBMP at a cost of Rs. 5,018 Crore.
In 2016-17, a total outlay of Rs. 12,632 Crore is provided to Energy Department. Provided the power crisis in the state, this is a good move.
During 2016-17, a total amount of Rs. 17,373 Crore is provided to Primary and Secondary Education Department.
Neutral:
Allocation for development of rural roads increased to Rs. 3,609 crore.
In 2016-17, a total amount of Rs. 1814 Crore is allocated to Commerce and Industries Department.
A total amount of Rs. 222 Crore is allocated to IT, BT and S&T Department.
During 2016-17, Rs. 5,032 Crore is provided for Department of Health and Family Welfare.
During 2016-17, a total amount of Rs. 4,651 Crore is provided to Higher Education Department.
Negatives:
Waiver of full interest on all types of agricultural loans availed from various co-operative institutions which are overdue as on 30-09-2015 if the farmers pay the principal amount within 31-03-2016.  While the budget implication is not high, the credit discipline in rural areas may get affected.
Karnataka Budget 2016-17