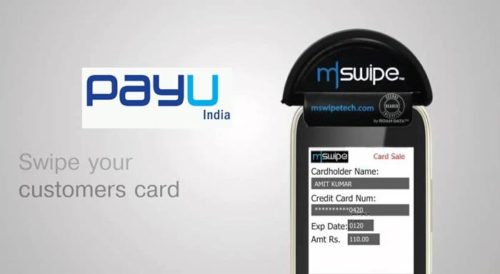 Team Estrade//- Mswipe announced its partnership with India's leading internet payment service provider PayU to enable digital payments, expansion of workforce and network across 550+ cities.
The bilateral alliance between the companies will also allow the merchant base of Mswipe to benefit from the various internet payment services offered by PayU India.
Furthermore, PayU's wide assortment of merchants across sectors will have an access to Mswipe for their entire POS services related requirement.
PayU will continue to expand its direct presence in the online fintech and payments space.
"POS terminals are the preferred medium of payments by customers to transact digitally at merchant locations. The partnership with PayU is mutually beneficial to both companies as it helps each consolidate its leadership positions in their areas of focus," said founder and CEO Mswipe, Manish Patel.
He further said that the merchant network and the expanded footprint across small and mid-sized merchants will further help us bring them into the digital fold by offering affordable and convenient POS services.
"This partnership allows us to focus on our core of enabling digital payments across more brands and merchants across the country. As the leader in internet payment services, we remain committed to realizing the Government's Digital India vision by bringing access to digital payments to all," said CEO PayU India, B. Amrish Rau.
Talking about Mswipe's growth and customer base, as much as 80 percent of Mswipe's customer base comprises of SME merchants, typically supported by two to three employees.
The turnover of these outlets are in the range of Rs one to five lakh a month, and a majority of these merchants have been able to accept credit and debit card payments for the first time through Mswipe.
Mswipe, PayU tie-up for digital payments in India