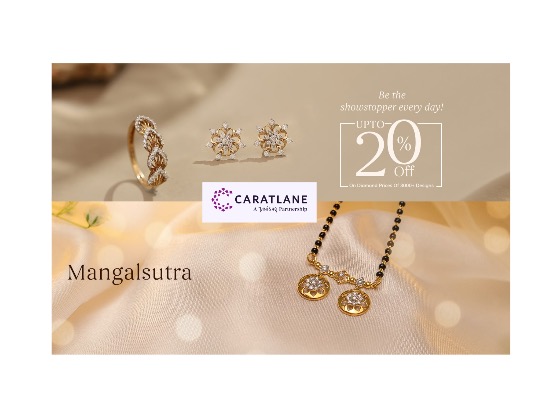 Multipl partners with CaratLane ( A Tanishq Partnership) for an exclusive monthly savings plan
Mumbai, India: Multipl, a leading platform for savings and investments, has announced an exclusive partnership with CaratLane, India's largest omnichannel jewellery brand. CaratLane will offer a monthly saving plan to Multipl users.
In the offer, users can save for 4-10 months with Multipl, and get up to 70% of the final month's deposit added to their savings by CaratLane. For instance, if a user wants to buy jewellery worth Rs. 1,60,500,they can save Rs. 15,000 on the Multipl app for 10 months, and save Rs 1,50,000.
In the last month, CaratLane will add Rs 10,500 (70% of Rs 15000) to the savings. Similarly, if a user saves Rs. 5000 for 7 months, CaratLane will add Rs 2000 in the 8th month (40% of Rs 5000). CaratLane is one of the savings partners on the Multipl app.
On the collaboration, Paddy Raghavan, Co-founder and CEO, of Multipl said, " Indians have always been fascinated with buying gold and diamond jewellery. CaratLane is unique in offering high-quality, contemporary jewellery for all occasions. We are excited to partner with CaratLane to offer the traditional gold-saving plan with a modern twist. Multipl is a technology platform that merges modernity with tradition, much like CaratLane. With this partnership, we hope to bring the best of both worlds to users. "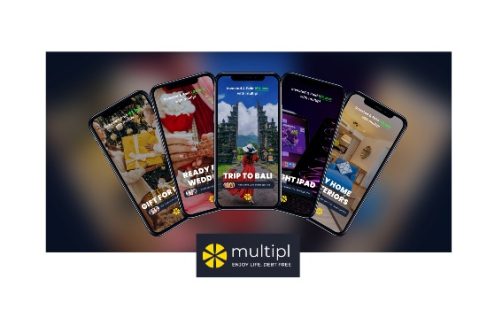 He adds, "Multiplers can now plan and save every month for buying jewellery from CaratLane for their special occasions, and will get up to 15% IRR on their savings. They will also get rewards on Multipl for reinforcing saving as a positive behaviour."
 Atul Sinha, Senior Vice President of CaratLane says, "We are elated to collaborate with Multipl, and become a part of the Save Now Buy Later movement. Saving up for jewellery purchases is a major part of Indian tradition. This is probably a sector where SNBL was always preferred. This collaboration will ensure that consumers can get more benefits with this plan. "
Gold buying is an important aspect of Indian culture and tradition, with the metal considered a symbol of wealth and prosperity. India is one of the largest consumers of gold in the world, and this offer will help Multipl users save up on their jewellery purchases with this offer.
To avail of the offer, please visit the Multipl app.
About Multipl
Multipl is the world's first Save Now, Buy Later platform that allows users to invest money towards their lifestyle objectives. The company wants every Indian to live the lifestyle they want, enjoy life, and be stress- and debt-free. Paddy Raghavan, Jags Raghavan, and Vikas Jain, three entrepreneurs from Bengaluru, founded the company in 2020. Today, some of the leading investors, including Blume Ventures, GrowX Ventures, IIFL, and Kotak Securities, support it.
With more than 250K installs, this cutting-edge Indian FinTech app encourages deliberate consumption and avoids impulsive purchases. The organization has an internal investment research team with many years of experience in banking and stock investments. Using its proprietary investment advisory framework, Multipl generates a custom risk model for each user before allocating their funds. The start-up adheres to SLR philosophy, also known as the "safety, liquidity, and returns" paradigm. Users can either invest in various market-linked investment assets or directly save with a brand for their upcoming lifestyle expenses. They typically end up saving 5%-20% more on every purchase.
About CaratLane
CaratLane – a Tanishq Partnership, India's first omnichannel jewellery brand was founded in 2008, by Mithun Sacheti and Srinivasa Gopalan, with a simple but courageous objective – to make beautiful jewellery accessible, affordable and forever wearable.
All CaratLane collections draw design inspiration from a strong historical legacy and interpret them in a modern theme. With the new-age woman as a muse, the design philosophy at CaratLane is to make jewellery which makes the wearer 'feel' beautiful, and draws out her compelling individuality, inner confidence and self-esteem.
With a strategic investment from Titan Company Limited, CaratLane is now partnered with India's largest retail jeweller, Tanishq. The partnership aims to work towards a common mission – to offer customers beautiful jewellery and a distinctive shopping experience that fits today's values and lifestyles – enabling CaratLane to grow as India's 21st-century jewellery brand.
CaratLane is also known for its signature jewellery-buying experience across all platforms. Along with the website, which is India's largest online jewellery destination, the CaratLane stores, over 190 across the country,  bring a seamless jewellery buying experience.
CaratLane also pioneered a unique Try at Home feature for jewellery buyers in the country, where customers can book an appointment to get their desired jewellery delivered at their doorsteps and try them at their comfort, with no obligation to buy.
Facilitating the diamond-buying experience in India, CaratLane stores also include a Solitaire Lounge personalised with a highly skilled team to assist customers to find the perfect solitaire. CaratLane diamond consultants are also available 24×7 at toll-free number 1800-102-0103.
To know more about CaratLane: Visit www.caratlane.com
Join the conversation: #CaratLane | @CaratLane | facebook.com/CaratLane
Read More Articles on Estrade Lifestyle
Multipl partners with CaratLane ( A Tanishq Partnership) for an exclusive monthly savings plan