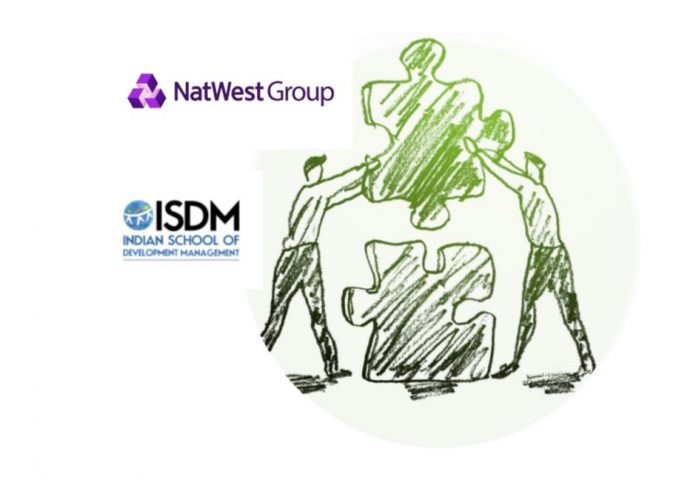 Catalyzing the development ecosystem through transformational education
New Delhi, 17 March 2021: NatWest Group India, the Global Capability Centre of NatWest Group plc, has announced a partnership with the Indian School of Development and Management (ISDM), a pioneering management institute for the development sector, to strengthen capabilities and drive tangible progress of India's development ecosystem. In addition to a significant financial commitment, NatWest Group India will be deeply invested with ISDM in nurturing talent to positively contribute to India's development needs.
On this occasion, Punit Sood, Head of India, NatWest Group said, "As a purpose-led organisation, this partnership reinforces our commitment to champion the potential of people and build a thriving development ecosystem to solve the most complex social issues society faces today. I personally believe that this convergence will help drive exponential progress in tackling the development needs of the country and will bring about scalable change."
"Organizations and institutions have a responsibility to drive systemic change towards a more just, equitable, humane and sustainable society. This partnership with NatWest will play a significant role in driving far greater and sustained impact of Social Purpose Organizations through the pioneering use of Development Management".  added Ravi Sreedharan, President ISDM.
ISDM has built a thriving ecosystem in the development sector through a first-of-its-kind Post Graduate Program in Development Management (PGP-DM). By adopting a multi-dimensional model, NatWest Group India will strengthen and scale up the capabilities of this ecosystem through interventions like case studies, scholarships, knowledge sharing, industry best-practices and frequent engagements.
As a Founding Patron of ISDM, NatWest Group India will play an instrumental role in fostering and shaping the country's development sector by leveraging the power of transformational education.
About NatWest Group India:
As the Global Capability Centre of the Group, NatWest Group India drives innovation and transformation to champion the potential of our customers, colleagues, and communities. Built on the bedrock of India's technology talent, best-in-class back-office operations and fast-growing Fintech eco-system, NatWest Group India provides world-class services and solutions to our 19 million banking customers globally.
About Indian School of Development Management
ISDM is an institution founded to create, strengthen and establish Development Management, a domain that transcends the exclusive silos of 'development perspectives' and 'management principles'. ISDM recognises the need to 'professionalise' the Leading and Managing of Social Purpose Organisations. The institution sees the development space as requiring the application of management disciplines that are unique and tailored to the scale of the sector. Management that doesn't merely retrofit Business Management to development projects, but one that is born specifically from the coming together of the two crucial domains.
NatWest Group India to be a Founding Patron at ISDM