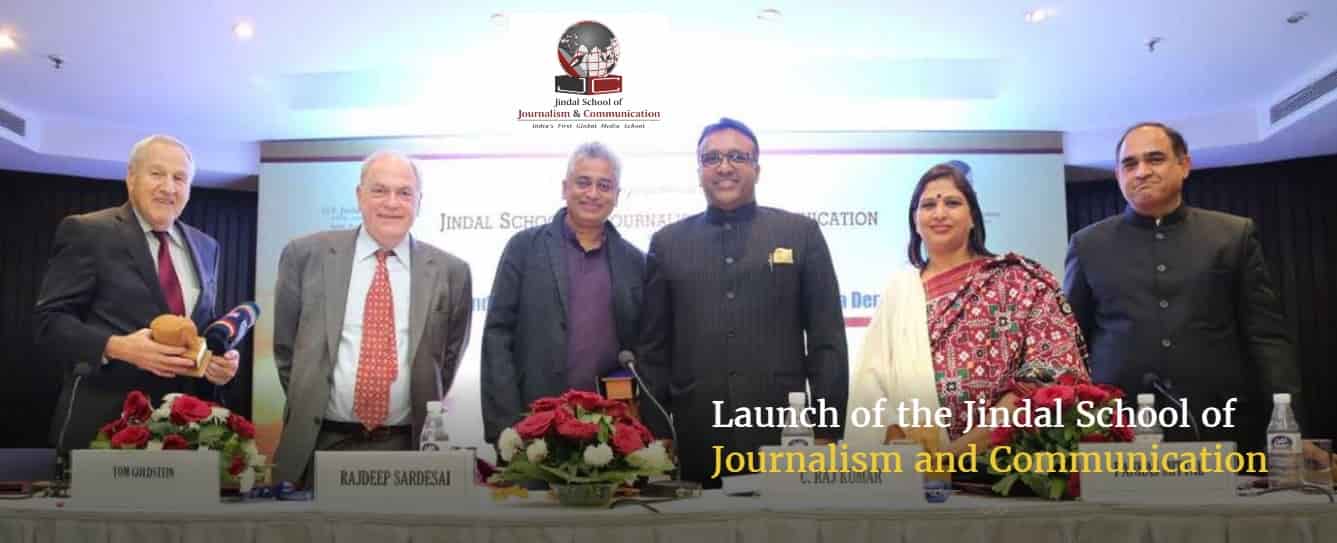 NEW DELHI, December 22, 2016 /PRNewswire//–
– India's First Global Media School Will Offer a B.A. (Hons.) Media & Communication Programme
– The School's Curriculum Will Foster Interdisciplinary Learning to Train and Groom the Next Generation of Media Leaders
The Jindal School of Journalism and Communication (JSJC) was inaugurated at the India International Centre in Delhi amidst an impressive gathering of academics and media persons from India and abroad. The inauguration of India's first global media school also witnessed an intense discussion on 'Ethics and Professional Obligations of Journalists in a Democracy.'
Introducing the vision of the JSJC, Prof. (Dr.) C. Raj Kumar, Founding Vice-Chancellor, O.P. Jindal Global University (JGU), said, "The vision of the school is to provide training as well as the knowledge and education through a critical pedagogy which includes inter-disciplinarity at the core of it. We believe that journalism and training related to communication that typically happens in many media schools is not sufficient. There needs to be strong foundational knowledge and perspectives in the broad framework of liberal arts education and that is what JSJC is intending to advance."
"The objective of the B.A. (Hons.) Media & Communication programme is to foster skills of critical enquiry and communication through interdisciplinary studies and a hands-on training of both traditional and new media, fundamental to various professional paths," noted Prof. Kumar.
Delivering the distinguished public lecture on Ethics and Professional Obligations of Journalists in a Democracy, senior journalist, Rajdeep Sardesai said, "We live in the times of high octane nationalism, where the narrative is now being spun about whether you are wearing your patriotism on your sleeve or not. With social media as echo chambers for hate and outrage, journalists are being now branded, based on their ideological preferences. My ethical belief system tells me that we as journalists must not put India first but truth first."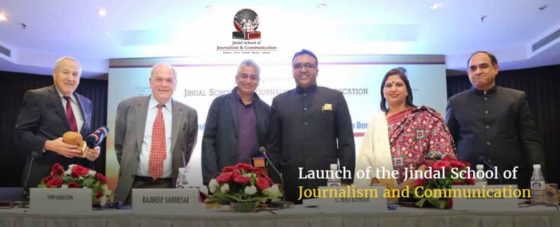 "I do believe that quality content will matter. We need strong effective gatekeepers who will separate the news from the noise, reporters who will tell stories without fear or favour, editors who will withstand external pressures and will mentor the young, which is why we need a strong professional journalistic education, today more than ever before," observed Mr. Sardesai. Asserting that journalists cannot be propagandists, he stressed their fundamental commitment to readers and viewers and to be a watchdog.
In his closing remarks, Mr. Sardesai, observed, "Ownership indeed is a key issue in today's journalistic environment. Far too many corporates and political parties who are dependent on government decision making have made inroads into the media landscape. In each instance this rising influence is effecting the growth of a truly independent media that is desirable in a democratic society. Corporate and political interest must be kept out of the newsroom if we are to sustain our commitment to a professional media environment."
Professor Tom Goldstein, Dean Emeritus, UC Berkeley Graduate School of Journalism & Former Dean, Columbia Journalism School; and Professor Peter H. Schuck Simeon E. Baldwin, Professor of Law Emeritus, Yale University & Chair, International Board of Advisors, JGU – spoke of the need for media to maintain integrity and of the threats faced by the press today.
In his inaugural address, Professor Tom Goldstein, remarked, "Rampant changes in technology and the business models of journalism effect what we read, see and hear. Journalism today faces momentous challenges, challenges which only well qualified and well educated journalists can take up."
Professor Tom Goldstein who has also served as a member of the Pulitzer Prize Board, further said that, "The press is supposed to hold those in power accountable, but those in power have always figured out a way to circumvent the press. News and information are now the wild, wild west. It will be up to the next generation of journalists to tame and guide this babble of voices, and that is why training them is so important."
Professor Peter H. Schuck, gave the presidential address. He underscored the importance of freedom of press as it was at the vanguard of any democratic process. He said, "The threats to freedom of speech and journalism are many and some of them are novel, and it is my expectation that the new Jindal School of Journalism and Communication will face those challenges and perhaps will give us a new resource for meeting those challenges and contribute to the richness of our respective democracies."
Speaking on the occasion, Pankaj Mittal, Additional Secretary, University Grants Commission, stressed on the need for educational institutions to be socially aware and responsible of the community around them especially those located in the semi-rural and rural areas. She emphasized the role of University Social Responsibility (USR) on the lines of corporate social responsibility (CSR).
JSJC is the first interdisciplinary school of journalism and communication in the country which aims to train and groom the next generation of media leaders and generate a new vision on the future of democracy.
In 2017, JSJC will offer a 3 year full time B.A. (Hons.) Media & Communication programme which is designed to give students a rigorous understanding of journalism across print, broadcast, radio and new media platforms. It will train students to think, write, visualise, produce, edit, and rewrite as journalists, editors, web editors, TV producers and anchors on global problems and issues. Admission applications to the B.A. (Hons.) Media & Communication programme are now being accepted, and interested students can register by accessing the application form at http://www.jsjc.edu.in
Professor (Dr.) Y.S.R. Murthy, Registrar, JGU, said, "Our aim is to create a truly global journalism school where inter disciplinary education and strong research focus would groom the next generation of media leaders who would be a trend setter in this field."
JSJC is the sixth school of O.P. Jindal Global University (JGU), a non-profit global university established by the Haryana Private Universities Act, 2009. The vision of the Jindal School of Journalism & Communication (JSJC) is to build a world-class institution in India that offers opportunities for education, research and capacity building in media and communication studies. The school intends to create the next generation of leaders in the fields of media, NGOs, think tanks, research institutions, corporations and academic institutions.
O.P. JGU: Launches School of Journalism & Communication