India's most popular mobile app for transportation, has partnered with Neev Finance, to provide easy school education for the children of Ola's driver-partners as part of its reward-oriented program for its driver-partners, Ola Stars. This first of its kind initiative allows loan options for driver-partners to cover the education expenses through affordable monthly installments. Loans up to a value of 1 lakh can be availed from Neev Finance by any Ola driver-partner who has been associated with the company for a minimum period of 6 months. The loan comes with an affordable interest rate and is applicable for children pursuing education from Std 1 to Std 12.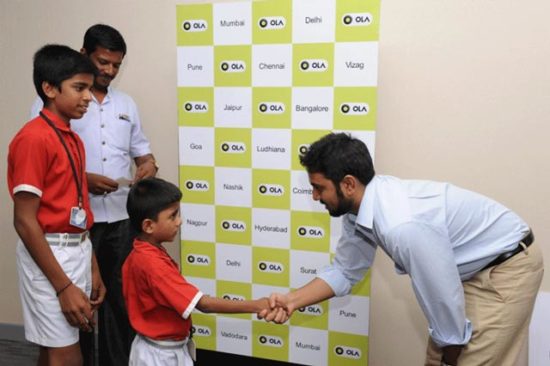 The first batch of the education loan scheme will cover driver-partners from Bangalore, Kolkata, Delhi, Mumbai, Chennai, Hyderabad, Pune and Nagpur; and will soon be available to driver-partners in other cities. Ola and Neev Finance are aiming to support education of over 50,000 children of driver-partners over the next one year.
Nitesh Prakash, Senior Director, Operations at Ola said "Ola's mission of building mobility for a billion Indians is driven by our driver-partners. It is very important that as they continue to grow professionally and personally, the lives of their families are also positively impacted. Through this partnership with Neev, driver partners will be able to afford a better quality of education for their children without having to worry about finances upfront. We have always believed in holistic development of our partner community and this initiative will go a long way in securing the future of their children. We will be coming with more such initiatives under Ola Stars for our driver partners"
"Our goal at Neev is to make better education affordable to the masses. We are excited to be partnering with a disruptive brand like Ola that is changing the paradigms of mobility in India. Neev is an NBFC that provides loans to parents to finance school fees for their children through tie-ups with education institutions and corporates where this benefit is made available. Our association with Ola will help reach out to thousands of driver-partners who are in need of assistance and facilitate better educational opportunities for their families"  Rishi Kedia, CEO at Neev Finance added.
Keshava Murthy, Driver-Partner with Ola and also one of the first few beneficiaries of this partnership said, "I am thankful to Ola for making a better quality of education possible for my two children. Good quality schooling often requires us to pay money upfront. I always thought of sending my children to a good school, while I may be able to afford a better school for my children, paying all the fees upfront is often a challenge since our earnings comes to us on a daily basis. Ola's support system for driver-partners like me is invaluable. I have availed a loan of Rs. 1 lakh for education expenses of both my children for the coming academic year and I am now relieved that their education won't be affected by the nature of my earnings."
Over the last two years, Ola has announced several financial and social initiatives for their driver-partners. Ola has partnered with Indifi for personal loans and Bajaj Allianz to offer motor insurance solutions to its drivers. Ola had set aside a fund of Rs 100 crores towards investment in the driver ecosystem to help nurture entrepreneurship. The company has also initiated the first ever rewards-oriented program in India for drivers called 'Ola Stars', that includes personal and professional benefits ranging from insurance, scholarship for children and skill development training for family to fuel discounts and car-servicing benefits.
'Ola Pragati' is another important campaign that offers tailor-made financing program to help drivers to take loans at lower rates and repay on a daily basis as against EMIs. This has been started in partnership with leading financial institutions like SBI.
Ola and Neev Finance,Help Driver-Partners' Children Get to School