Ola's operator app will help partners on the platform manage their vehicles with ease

Platform to foster the growing entrepreneurial mindset of young India
Ola, India's most popular mobile app for transportation, yesterday announced the launch of a first of its kind mobile technology solution with its new 'Ola Operator' app – built for entrepreneurs who have grown from one car to many on the Ola platform over the years, as well as operators who own cars, but employ drivers, to work on the platform. With this launch, Ola aims to add tens of thousands of new Operators onto its platform, including driver-partners who've turned entrepreneurs, operators in the business of transportation, as well as aspiring first-time entrepreneurs who would like to be part of the mobility ecosystem with minimal time commitment. This mobile app will help bring in immense efficiency to manage a single vehicle, to a large fleet, that an operator may own by helping him/her with real-time tracking and performance at the touch of a button.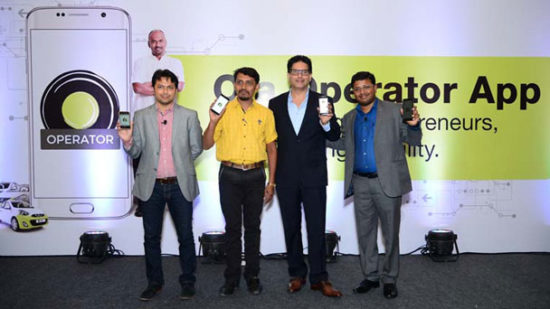 This new easy-to-use app will enable operators to conveniently track the location of every one of their registered vehicle, in real-time as well as receive live alerts on their running status. Operators can monitor log-in details, daily earnings and performance, all from a single window in real time as well. The app dashboard will display details on Operator's current balance, total number of rides completed and earnings with break-up in cash and online payments made for selected period with detailing at a vehicle and driver-level. The app will also act as a repository for requisite documents viz. vehicle registration, insurance and license of appointed drivers, amongst others.
Anil Shinde, an Entrepreneur and an Operator on the Ola app in Mumbai said, "It has been more than two years since I joined Ola as an Operator and I currently have 5 cars on the platform. Ola's 24×7 partner-care and prompt account managers have extended complete support to me at all times. I have been one of the privileged few to test the beta version of this app for a week now and I can confidently say that this technology will help me scale up from a few cars to a larger fleet in no time. It has taken into account every detail I'd like to monitor in real-time and gives me status of all my drivers and cars on my smartphone. I can also see payment details and performance of my fleet at any point of time. This is easy to use technology that has been created keeping in mind small to large entrepreneurs on the Ola platform."
Sumit Tuteja, Senior Director – Product at Ola, said, "Entrepreneurs are key to our mission of building mobility for a billion Indians. Tens of thousands of driver-partners who joined us with a single car, have grown with us to become operators, owning many cars over the years. We believe that the technology needs for entrepreneurs to succeed at scale are different than what helped them grow as driver-partners. The Ola Operator app makes it possible for entrepreneurs across scale and size, to access and control their business on the Ola platform in real time, with the flexibility and convenience to operate from wherever they are."
This launch also opens up opportunities for those who want to be part of the growing Indian mobility market, by attaching one or more commercial cars on the Ola platform and employing a commercially licensed driver.
Ola's new App to Empower Entrepreneurs on its Platform