As the year 2022 begins, the corporate leaders across sectors have made leaps and strides in their learnings since the start of pandemic. The year holds great promise for the Indian and Global business community. Estrade Board Room had the opportunity to speak to Rakesh Reddy, Director – Aparna Constructions, http://www.aparnaconstructions.com who shed some light on the happenings in his line of business. Following are excerpts from our interaction with him,
"Discerning IT and Finance professionals would be exposed to the latest international trends in the housing industry and would inevitably demand the same standards in Hyderabad. Amenities including a world-class cafeteria, health and fitness centre, swimming pool, jogging paths, and a crèche would be the norm."
Tell our readers about Aparna Constructions? Kindly take us through your journey since inception. What have been your major achievements and your major challenges?
Since 1996, Aparna Constructions has been a leader in the Indian construction industry and is one of the largest and the only backward integrated real estate developers in South India. Headquartered in Hyderabad, Aparna Constructions has continuously surpassed industry standards by developing premium and value residential gated communities with environmentally responsible amenities, including Zero Discharge, Rain Water Harvesting and Solar Heating. All measures taken in project design ensure eco-friendliness and relatively low carbon footprint. Aparna is an ISO 9001:2008, ISO 14001:2004 & OHSAS 18001:2007 certified company. Aparna Constructions is also the first developer in Hyderabad to partner with Morgan Stanley and with J. P. Morgan.
A watershed moment in the journey of Aparna Constructions was identifying a little-known area on the outskirts of the IT and Financial hubs called Nallagandla and developing it into the prime real estate it is today. Over the past decade, Nallagandla has emerged as a key residential destination for employees of the IT campuses in surrounding Gachibowli and HITEC City.
Discerning IT and Finance professionals would be exposed to the latest international trends in the housing industry and would inevitably demand the same standards in Hyderabad. Amenities including a world-class cafeteria, health and fitness centre, swimming pool, jogging paths, and a crèche would be the norm. Foreseeing this trend, Aparna completed their 20-floor luxury gated community flagship project in 2010, Aparna Sarovar.
Aparna Sarovar has evolved to be a beacon of luxury and connected living at Nallagandla. Its strategic proximity to the IT and Financial hubs makes it most desirable to executives and their families alike. Emphasising open spaces and designer landscaping, Aparna Sarovar showcased the beginning of many possibilities at Nallagandla.
It its 25-year history, Aparna Constructions has had to overcome many challenges to establish itself as the market leader. The financial crisis in 2007, bifurcation of Andhra Pradesh in 2014 and the uncertainty surrounding its outcome were crucial milestones for the company.
Despite Hyderabad's highly developed infrastructure and presence of large corporates, the political turmoil surrounding the Telangana agitation resulted in market sluggishness. The biggest obstacle leading up to the bifurcation was the postponement of purchase by home buyers. Demand in Hyderabad was plummeting and many investors were backtracking, unsure of the repercussions of Telangana's statehood. This led to the Hyderabad real estate market being in limbo for years. In fact, barring a few non-local developers, no new developer entered the Hyderabad market between 2009 and 2014. A report by Cushman & Wakefield said Hyderabad witnessed a 46% decline in new launches in 2014 as compared to the previous year, primarily due to a large amount of existing unsold inventory in the city.
It was during this time of prolonged downturn and uncertainty that Aparna Constructions saw an opportunity to set itself apart.
As Nallagandla grew in popularity and other developers took note of its potential, Aparna Constructions would once again raise the bar. After the success of Aparna Sarovar, the company envisioned a larger, grander project adjacent to it – but with a significant difference. Launched in 2013, Aparna Sarovar Grandé would be an ultra-luxury apartment gated community with a certified Platinum-rating from the Indian Green Building Council (IGBC), making this project the first-of-its-kind in Telangana and Andhra Pradesh. Designed to be eco-friendly and energy efficient from its inception, the project combines ultra-luxurious living – including a helipad – and environmentally responsible design, both without compromise.
At a time when developers in Hyderabad were downsizing and lowering growth targets, Aparna Constructions was reaching for new heights with Aparna Sarovar and Aparna Sarovar Grande.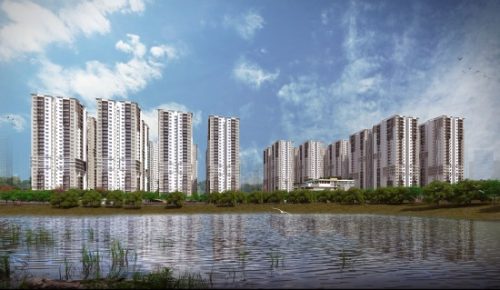 Kindly give some insights into your segment of operation in the real estate industry. What are Aparna Constructions' major products and services? What is your geographical location? Share some data about your – market size, challenges, opportunities, key metrics, etc. How do you see the future growth of this market, along with your company's growth?
Aparna Constructions has a current portfolio of 66 projects, of which 56 are residential properties and 10 are commercial spaces across the states of Telangana, Andhra Pradesh and Karnataka. These projects comprise of fully-integrated gated communities of apartments, villas, plot layouts, and commercial buildings that are spread over 24.5 million sq. ft. of built-up area and an additional 25 million sq. ft. which is currently under development, planning and approval stages. The innovative and highly efficient approach to the way Aparna Constructions does business has allowed the company to expand into and dominate a variety of real estate development industries and services, ranging from ultra-luxury construction.
The backward integration model is one of the key competitive strengths of Aparna. This literally means that the Company has all the competencies and in-house resources to deliver a project from conceptualization to completion. Backward Integration includes into manufacturing of Ready Mix Concrete (RMC), uPVC Doors and Windows, Tiles and Solid Bricks.
Aside from strengthening our current presence in Hyderabad, we have spread our operations across South India and by having deep knowledge of market trends and instinct for strategic growth; we have launched our first projects outside of Hyderabad – Aparna Elina and Aparna Maple in Bengaluru and Aparna Amaravati One in Amaravati. The South India real estate market has been growing steadily and we want to further capitalize on this growing opportunity.
Aparna Constructions is exploring opportunities in affordable housing to diversify our residential portfolio. Attracted by growing job opportunities in Hyderabad, demand for affordable housing has increased exponentially. We are actively pursuing the affordable segment because the concept is gaining traction in Hyderabad. In the pipeline is Aparna's first affordable housing project close to the IT hub of Hyderabad. The project will offer affordable housing with good connectivity to the rest of Hyderabad. The previous success of our value housing project Aparna Kanopy – which has won multiple reputed awards, has shown promise in the affordable housing segment.
Aparna Constructions is preparing to further diversify and enter commercial realty including retail and warehousing. Aparna Constructions will be developing luxury and boutique malls across Tier II & III cities and towns across Telangana and Andhra Pradesh. The first such project will be a 3-lakh-sft mall at Nallagandla.
"Since mobility and face-to-face interactions were limited, home buyers are increasingly searching for properties online. To address this online demand, developers are providing full property documentation and 3D virtual walkthroughs…"
Who is your target buyer? How would you pitch Aparna Constructions' value proposition to firstly the buyers, and secondly, the investor?
Hyderabad is renowned as a premier IT hub in India. Much of our demand is fuelled by professionals from the IT/ITeS sectors who demand privacy, customization, sophisticated technology, modern amenities, and professional service and property maintenance. They also value the importance of being environmentally responsible. Our projects are designed and developed keeping this community in mind.
As in IT hubs across the world, finding a home that is close to one's workplace is important for IT professionals, especially for ones with young families. Our gated community projects are located close to commercial hubs and offices. Living close to the office allows for flexibility and enhanced work-life balance.
Our gated community projects provide modern amenities and recreational facilities. This gives IT professionals a convenient place for recreational activities regardless of their schedule. The facilities are designed to provide an improved lifestyle for its residents. Other common facilities include playgrounds, fitness centres, club houses, swimming pools and spas, and sports courts.
Security and surveillance is mandatory for gated communities. Since IT/ITeS employees work round-the-clock, it is imperative to provide a safe environment at all times. Gated communities provide 24/7 monitoring and surveillance, combined with stringent checks on non-residents at all access points of the premises. Only approved residents and guests are allowed inside due to restricted access entry.
The value proposition for investors is also ideal. With any property investment, maintenance is a huge challenge. The property must be regularly managed to ensure the highest value at all times. Our gated community projects are maintained to exacting and impeccable standards. We provide an exclusive property management team that looks after the gated community and the surrounding area.
Hyderabad is also among the top cities in terms of investments from NRIs. India has been comparably resistant to global recessions. NRIs are aware of this fact and prefer investing their foreign currency savings in the growing Indian real estate sector. Hyderabad is a popular real estate destination with NRIs, primarily due to its developed commercial infrastructure. The rate of property appreciation in Hyderabad is much more due to the fast-paced infrastructural development. As more organisations establish their offices in Hyderabad, this creates an enormous job market and an equally enormous requirement for residential areas. Increased migration is providing more rental opportunities.
What is your view for the company and the sector – Pre pandemic, during pandemic and planned for post-pandemic? During this pandemic, many businesses in the real estate sector have closed or are struggling to survive. Your view and comments on this prevailing situation.
Real estate demand in India was improving in the first quarter of 2020 until the onset of the pandemic. Due to the subsequent lockdown, home buyers temporarily deferred their decisions until there was more clarity regarding the market outlook. As the pandemic subsided, the market regained its previous momentum. Although there was a temporary slowdown in sales, it did not affect the increasing real estate price trajectory in India.
The pandemic has adversely affected the businesses of several small and mid-size developers. However, established and reputed developers have been able to expand their footprint and continue providing high-quality residential properties. More and more home buyers are opting for high-value properties by developers with proven track records. There is a strong preference for RERA-approved, branded projects by prominent developers rather than unorganised, smaller players due to low levels of confidence amongst consumers.
The pandemic has forced digital transformation upon the real estate sector. Staying connected to potential customers and maintaining a sales pipeline without the benefit of site visits is a challenge. Digital media has played a significant role in overcoming this challenge and revitalising the real estate market.
Since mobility and face-to-face interactions were limited, home buyers are increasingly searching for properties online. To address this online demand, developers are providing full property documentation and 3D virtual walkthroughs on their websites for greater transparency.
Aparna's customer-centric approach, uncompromising business ethics, and transparency in all spheres of business elicits trust among consumers. We maintained our sales pipeline throughout the pandemic using our digital marketing platforms to stay connected to potential customers during this time. Our brand reputation makes our sales cycle relatively straightforward and optimum for digital marketing channels.
"The growing trend of remote work has led consumers to consider purchasing homes beyond the metros and instead focus on tier 2 and tier 3 cities."
How has the business eco system and buyer sentiment changed during this pandemic? How do you see these evolve?
Although the past year has been immensely challenging, the real estate sector has the potential to be the key driver of economic growth in India. We have witnessed a resurgence of home buyers bolstered by lower home loan interest rates, a wide range of property choices, and government policy initiatives. Consumers have adapted their preferences and made the best of the current market scenario.
The pandemic has made more people realise the importance of owning property compared to renting. The ensuing work-from-home scenario has changed the mindset of those who previously did not want to commit to making a large investment. This year has seen a large number of people across demographic markets purchase real estate in India for the first time. This home buying trend indicates that consumers want stability and minimisation of risk during times of uncertainty.
The lockdown phase has introduced a new Work from Home scenario which may become a permanent arrangement in some situations. Numerous companies have adopted the WFH model, which has resulted in the need for people to live in spacious homes. Professionals who are able to work from home would require dedicated spaces in their residences for work. Consumers are opting to invest in larger properties that provide adequate space and privacy for all family members. Home buyers are more likely to choose projects that are spacious and surrounded by greenery. Amenities for additional comfort and convenience will also influence the decision of prospective home buyers.
The growing trend of remote work has led consumers to consider purchasing homes beyond the metros and instead focus on tier 2 and tier 3 cities. In circumstances where people can work from any location, some are preferring to buy property and relocate to areas beyond major metros where property prices are affordable. Consumers are opting to move away from the hustle and bustle of populated cities in favour of more relaxed lifestyles. This trend of reverse migration will improve economic activity and employment opportunities in tier 2 and tier 3 cities which lead to more growth.
How upcoming technologies such as Big Data, ML and AI, are augmenting your market reach? How Aparna Constructions is leveraging these?
Putting customers first has always been the driving force of Aparna Constructions and new technologies such as Big Data, ML, and AI helps the company accomplish this. Continuously implementing innovative ways to improve customer experience is Aparna's key market differentiator. We were one of the first real estate developers in Telangana to utilise AI-enhanced marketing automation and programmatic advertising campaigns. The goal of employing these new technologies is to collect and utilise the vast data to create timely, relevant and personalised messaging for every potential customer.
Big data plays a major role in the planning and design of our marketing initiatives. We regularly conduct online behavioural experiments to understand the consumers' unique mindset and accordingly adopting the most suitable communication strategy. There are many factors that determine a home buyer's preferences such as location, amenities, and cost. The data allows us to create unique messaging and provide the right resources for every lead so they can make an informed decision.
The central hub of our marketing automation efforts is the company website which is a comprehensive platform for our multiple projects in different cities and locations. The website provides users with a wide range of choices, in a mobile-first approach, by providing each visitor with a personalised web experience based on their previous interactions. This results in a more immersive online experience.
On which policy issues do you feel the industry players should come together? Who are your competition? How do you perceive the threat from your competition? What is the biggest challenge faced currently by your industry?
This increasing demand for quality housing needs to be supported with adequate regulatory reforms to protect the interests of all stakeholders and bolster the sector's revival. In addition to these reforms, the granting of infrastructure status to the entire real estate sector would provide a huge boost to its revival. We have seen the impact of infrastructure status on affordable housing with many reputed developers now incentivised to launch much-needed projects in the affordable segment.
The real estate sector requires a streamlined approval processes enforced by RERA and implementation of Single Window Clearance. This will ensure project approvals to be processed more quickly, resulting in reduced construction costs.
Currently, only the affordable housing segment is benefiting from reduced stamp duty. To entice more home buyers, this benefit of stamp duty reduction should be extended to mid and luxury segments as well.
Since the real estate sector has been struggling with the completion of projects due to an acute liquidity crunch, access to alternative funding is a critical requirement. Developers need strong capital flow to maintain the supply pipeline and keep property prices from surging. Incentivising private sector investments would not only help developers but also home buyers who are awaiting completion of their homes.
"The low interest rates and ease of liquidity will bolster the entire sector, especially in light of the Housing For "
What is your vision for Aparna Constructions, in terms of, (1) Near term future, over the 2022, (2) Long term, over a 4 years horizon.
This year marks the 25th anniversary of Aparna Constructions and we want to celebrate the milestone with rapid expansion plans across all our markets as well as expansion of segments that we cater to. Our residential portfolio stands strong at 56 residential projects and we want to strengthen it further with other projects including plotted properties. We also want to bolster our presence in the commercial segment in the coming years, especially in Tier II and Tier III locations in Telangana, Andhra Pradesh and Karnataka.
The accommodative stance of the government should continue throughout 2022 as we regain pre-pandemic momentum. The low interest rates and ease of liquidity will bolster the entire sector, especially in light of the Housing For All initiative. The further rationalisation of GST for under-construction projects coupled with tax benefits will be a welcome stimulus.
Over the next 4 years, we will see significant growth in sustainable and green construction innovation. Aparna Constructions will continue to explore new technologies, combined with advanced analysis and design methodologies that allow the construction of increasingly more efficient buildings with minimal environmental impact. New supply chains for procuring building materials will need to be developed after the disruption of the pandemic and this will result in innovation in the materials sector.
The real estate market is expected to reach approximately USD 300 billion by 2025 and account for 13 percent of India's economy. The government recently announced the National Infrastructure Pipeline of around INR 100 trillion which seeks to improve the living quality of its citizens and will further drive growth. The sector requires more long-term demand-generating recovery measures and timely execution of reforms that will reverse the slowdown in economic growth.