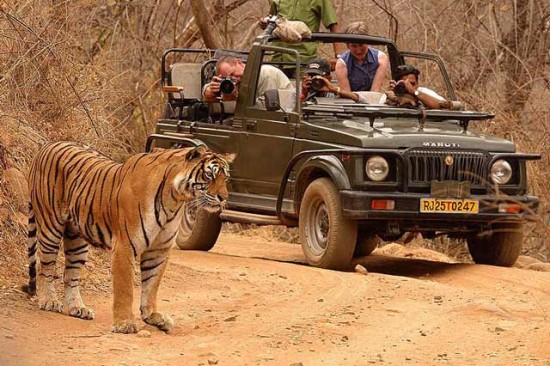 Jaipur: Ranthambore Tiger Reserve, about 180km from Jaipur, Rajasthan, is all set to allow full day wildlife safari for enhanced fees, according to media reports.
The full day safari will cost Rs 40,000 per vehicle for foreigners and Rs 30,000 for Indians. Each vehicle will carry a maximum of five people. All other rules, including the services of an official guide, applicable.
The regular morning and afternoon safaris of three-hour duration and conducted along prescribed routes will continue,
Those undertaking the full-day safari will be able to travel to areas beyond that covered by regular safaris, according to reports.
While the Rajasthan forest department and a few wildlife enthusiasts have welcomed the idea, many leading conservationists are apprehensive about the increased disturbance to the animals.
Almost a year ago, Ranthambore and its tiger tourism was in the news when one of its tigers T24, also called Ustad, was tranquillised and rehabilitated in a biological park in Udaipur after it was reported that he had killed a forest guard. It was alleged that the tiger had killed three more people earlier. The debate if he really killed so many people and if he should be kept on captivity is yet to be resolved.
Ranthambore: Full-day safari a reality