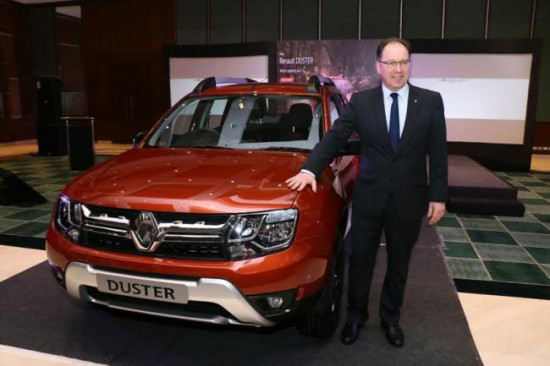 Kolkata: Automobile manufacturer Renault India launched the all new Duster range in Kolkata.
The New Duster range which was recently unveiled at the Auto Expo 2016.
Speaking about the new Duster, Rafael Treguer, Vice President, Sales Marketing, Renault India said, Duster is a perfect example of Renaults core specialty of concept innovation, where we redefine an existing segment, offering something new to the customer. Success in the automotive space is led by clutter-breaking products that rewrite automotive trends and make customers lives better. Over the years, Duster has firmly etched Renault on Indias automotive mapand has achieved a cult status.With the new 6 speed Easy-R Automated Manual Transmission and several technical and design enhancements offered at a compelling price, we are confident that the New Duster will lead our expansion plans in India and strengthen our position in the compact SUV segment.
The New Duster features New CMO10 T4 EE architecture which enabling enhanced safety and superior ride and handling.
The New Duster with manual transmissionis available in fivetrim levels Standard, RXE, RXL, RXS, and RXZ, with both diesel and petrol power trains on offer.
While the introductory petrol base variant is priced at Rs. 8,85,405 (ex-Kolkata), the top of the line AWD (4×4) variant is offered at an introductory price of Rs. 13,99,703 (ex-Kolkata).
Bookings for the New Duster will open across dealerships starting March 3, 2016. Bookings can be made either at the dealerships or through the Renault DUSTER App, which is downloadable from the Google Playstore.
Renault India launches new Duster in Kolkata