A country's economic development is a reflection of the development of its banking sector. As per KPMG-CII report, India's banking sector is expanding rapidly having the potential of becoming the fifth largest banking industry in the world by 2020 and third largest by 2025. Thanks to emergence of universal banking system, economic growth and globalisation.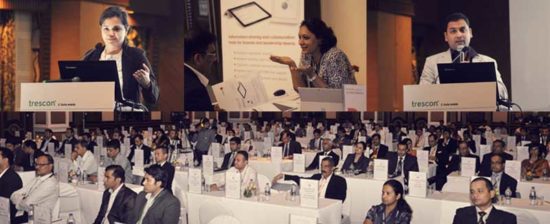 The journey along the road has many challenges like non-performing assets, reduced profits, corruption, crisis in management, consumer expectations, increasing competition from financial technology companies and regulatory pressure.
It is therefore very crucial to have a transparent and efficient banking system so as to overcome these issues which can be attained by implementing advanced technologies. But implementation of these technologies in the banking, financial services and insurance industry itself has some challenges.
Mr. Pallab Bhattacharya, Vice President Business Excellence & Transformation at Edelweiss Financial Services in an exclusive interview with global business events and consulting firm Trescon, summarises top 5 challenges faced by the Indian BFSI industry.
Market regulators are not flexible neither is their thinking at pace with global innovation & technology disruption at large
Whether to buy or make a complex large business platform (across credit, trading, banking, insurance)
Mushrooming internal systems/platforms are disjoint and cater short terms needs only
Lack of matured CDO (Chief Data Officer) & its office. Lack of central reference data & data model ownership within the organization. This creates enormous rework, operating loss, slows down to change, makes our system prone to failures.
Lack of top down Devops++ programs & practices in order to drive high speed innovation
Pallab is a seasoned business excellence & innovation professional with 16 years of industry experience in BFSI, BPO & Technology. He brings rich experience from TCS, HSBC, Morgan Stanley, Capita & Edelweiss. He started his professional journey as a software developer and later moved to pursue quality, transformation & business excellence and has successfully lead transformation across Insurance, retail banking, investment banking & trading operations by leveraging lean, sixsigma, lateral thinking & robotics process automation. By education Pallab is BE (Mech) and executive MBA from IIMC and holds many professional certifications including Lean sixsigma Master Black Belt, Dr Debono's Lateral Thinking. He has published & presented multiple white papers including ASQ, USA.
He is excited to attend and speak at the 4th Edition BFSI India Conclave to be held on 26 and 27 May 2016 in Goa; as this is his first invite for a technology driven BFSI event.
Q. What are positive factors that influenced your decision to attend this event?
Pallab: It is the BFSI centricity of this initiative by Trescon. The focal point of this entire event is "technology" – that's where my interest lies. I had been invited before to many other quality & business excellence summits/conferences, but this is my first time for a BFSI industry event.
Q. What should the audience expect from you at the event? Give a quick overview about your topic of discussion at the event.
Pallab: I am willing to learn & open to feedbacks on my comments. I will share all my experiences and challenges of my 16 years of professional career in BFSI.
DevOps++ is my subject of discussion & interest. This is about how to get all exhaustive set of variables (Business knowledge, system knowledge, IT teams, solutioning & change sustenance) in the organization aligned towards delivering high speed innovation through application of leadership, lean, sixsigma and TOC principles. DevOps is fundamentally about merging of development team and technology infrastructure team to speed up deployment. My white paper lifts DevOps to its next level of maturity & effectiveness.
Q. What are your thoughts about the BFSI India Conclave as it is in its 4th edition? What outcome do you expect from it?
Pallab : I admire the effort put in behind this conclave. It has earned credibility already. I am looking forward to getting exposed to new technology offerings, products, robotics options, industry best practices.
The conclave will host many more thought leaders and industry experts including, Dr. Paritosh Basu, Senior Professor at School of Business NMIMS University; Chandra Gupta, Chief Technology Officer at Reliance Capital Asset Management; Harish Sharma, Group Vice President & Head (IT) at Toyota Financial Services; Mohan Vizhakat, Group Chief Technology Officer at Manappuram Finance; Yazdi Tantra, Chairman (IT Committee) at Zoroastrian Co-Op Bank; Jude Pereira, Managing Director at Nanjgel Soluions; Nabankur Sen, Chief Information Security Officer at Bandhan Bank; Shivkumar Pandey, Chief Information Security Officer at Bombay Stock Exchange; Rajendra Bhalerao Chief Information Security Officer at Fullerton India Credit Company; Gaurav Mahendru, Solutions Architect at Trend Micro; Manoj Mishra, Vice President Technology at Magma Fincorp; K. V. Dipu, President & Head (Operations) at Bajaj Allianz; Nitin Bhandari, Vice President – Digital Payments Business at Reliance Jio; Topendra Bhattacharjee, Head of Digital Banking at RBL Bank.
Agenda of the conclave revolves around some of the pressing issues challenges and opportunities such as Digital transformation in BFSI through technological innovation; Understanding the growing business needs of BFSI players that lead to the adoption of new IT infrastructure; BFSI Today – Driven by Data Analytics; Importance of building a security strategy that will help build trust in the digital world for the BFSI sector.
The Conclave is supported by leading innovative technology solution providers such as Nanjgel, Lastmile, Trend Micro, Ameyo, Senrysa, Seclore, Liferay, Fragma Data, EzeTap, Trianz,JMR infotech and DronaHQ.
The Roadmap Towards an Efficient and Secure Indian Banking Sector