State Bank of India (SBI), country's largest commercial bank has signed a MoU with Jain Farm Fresh Foods Limited (a subsidiary of Jain Irrigation Systems Limited). The new tie-up will help farmers associated with Jain Farm Fresh Foods Limited to avail finance against receivables due from the company.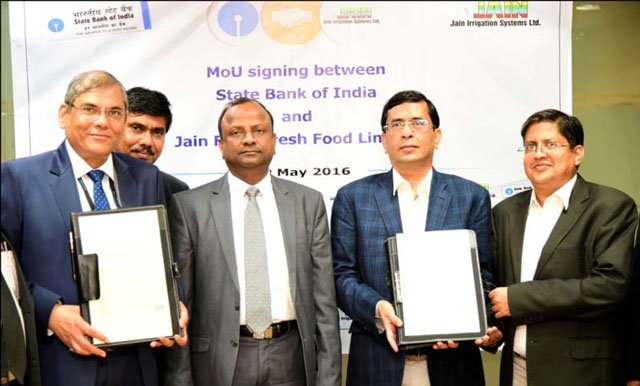 This new product is an innovative offering that uses corporate's ecosystem data to digitally enable lending solutions to customers. Farmers' past performance data with the associated anchor company will be used to assess eligibility and enable loan sanction. A proprietary digital tool has been developed by SBI to facilitate this centralized electronic sanctioning. This solution, unlike traditional agri-lending products moves away from lending based on the farmers' assets, land holding and financial history. Instead it uses proprietary historical performance data and information from public domain to assess farmer's eligibility and credit worthiness to sanction the loan.
Speaking on the occasion, Shri. Rajnish Kumar, MD – National Banking Group, SBI said, "We are pioneering the combined potential of the rural economy, disruptive digital innovation, and leveraging the strength of corporate partnerships. The Government is also taking many steps for reviving the farm sector – New crop insurance scheme, promotion of irrigation facilities, KisanSuvidha app, electronic Mandi portal etc. All of these will help revive agriculture sector and give a boost to GDP. Our corporate customers will see great value in this program and will look to strengthen their ecosystem".
"The product is truly pioneering as it provides credit to farmers to make investments in modern agricultural technologies like mechanization, irrigation, etc. resulting in higher productivity and subsequently higher farm income. For the bank the product is a disruptive industry offering as it relies on minimal documentation and liquid assets as security. This significantly improves customer experience and helps reduce the time involved in sanctioning." he added.
Speaking on the occasion, Shri. K. M. Trivedi, CGM – Rural Business, SBI said "The farmer financing against corporate's receivables product is an innovative product as now we can extend credit to all farmers associated with an anchor without relying on traditional financial sources of information. More importantly, the solution   provides quick and easy credit access to farmers, thereby reducing reliance on informal money lending channels. With access to capital, farmers will be in a position to invest in the upcoming cultivation cycle resulting in opportunity to earn additional income. Additionally the digital process has helped effectively leverage the ecosystem data to facilitate assessment. The usage of technology reduces human intervention; especially for a segment that was inundated with high cost to serve, customer turnaround time and manual processes."
SBI is looking to strengthen the 'Farm-to-Fork' program and increase agricultural lending through corporate partnerships. The affiliation and comfort from the anchor corporate will increase the risk mitigation for loans given to various stakeholders. It plans to expand its product suite across sectors to offer customized solutions to the corporate players and their associated farmers and vendors. Recently, SBI has also signed MoUs with NIF Private Limited (Namaste Dairy), PepsiCo India Holdings Pvt. Ltd., Siddhivinayak Agri Processing Pvt. Ltd. and Origo Commodities for ecosystem financing in the agri-value chain of the corproates.
SBI has been a pioneer in rural lending and financial inclusion and with the largest rural portfolio and customer base, it is at the forefront in implementing various financial inclusion programs and serving their financing requirements. In recent times, the Bank has been working with corporates to develop risk mitigated, value chain financing solutions that can cater to all stakeholders – starting from the farmer to the distribution channel partners. Today, the Bank has taken yet another giant leap in this space with the launch of a new product for financing farmers against receivables of corporate.
SBI has over 10 million rural customers with a loan book of more than Rs. 1.25 lac crore as on March 2016.  It serves them through a branch network of around 11,000 RUSU branches, 20,000 ATMs and around 58,000 Business Correspondents. The Bank has hired management consulting firm, The Boston Consulting Group to support this project which also facilitated the development of this innovative product.
SBI to Offer Financing to Farmers Through Corporate Partnerships