The campaign, Ek India Happywala, created by DDB Mudra Group's Mumbai office, kicked off with an anthem early last week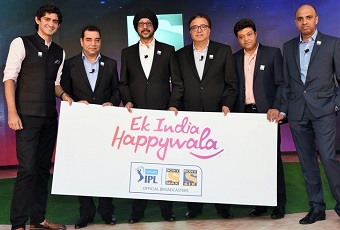 Sony Pictures Networks (SPN) head-honchos have today unveiled the new campaign for Season 9 of VIVO IPL.
From 2008 onwards, SPN has been the exclusive broadcaster of VIVO IPL. And since then, with BCCI's support, SPN has been not only been marketing and promoting the event on its network but also using content that powers the television medium to entertain and communicate.
This year's VIVO IPL campaign, 'Ek India Happywala' implores every Indian in every corner of the world to build an empowered India – a nation that respects differences in its cultural fabric but at the same time rises above those differences to create an atmosphere of dignity and harmony. A nation that our children will be proud to inherit. We have to act today to create a better tomorrow.
NP Singh, CEO, Sony Pictures Networks India said, "At the outset, let me start with a note of thanks; not only to all sports fans and enthusiasts for giving VIVO IPL the crowning status of an iconic brand but also to BCCI for giving us an opportunity to partner with them, in the journey of relaying the best of cricket to our viewers."
"With the launch of IPL, BCCI roped in the best cricketers from cricket-playing nations, created city-teams within India and thus defined a new playing field for T20 cricket. As the exclusive Television broadcaster of IPL, Sony suffused dollops of entertainment to increase the viewership of the game. So from being a largely male-dominated viewership in 2008, today VIVO IPL is a family activity, enjoyed as much by women and children."
"Over the last 9 years, we have extensively promoted IPL, not only on television but across other mediums like print, outdoor and digital. Our marketing campaigns have become cultural mnemonics in household conversations. Right from 'Ek Desh. Ek Junoon' in 2009 to 'India Ka Tyohaar ' in 2015, our message was clear – Lets spread the cheer. And now, "Ek India Happywala' is our earnest attempt to engage viewers in conversations that will spread the cheer to our children, because it is our children who will inherit this world from us."
"From programming content to contribution to society, we want to make 'Ek India Happywala' our call to action. So, at Sony Pictures Networks India, our CSR initiatives will be cascaded under the aegis of 'Ek India Happywala'. This is our way of ensuring that the ethos of the campaign stays alive much after VIVO IPL Season 9 is over."
"All-in-all, IPL has been an enjoyable, learning experience. It's been driven internally in our network with great passion and commitment. For us, it has germinated memories; both big and small. We are looking forward to serving the viewers during Season 9 and 10 of VIVO IPL, and yes, many years, after that as well."
"As we strive towards becoming India's first choice in Television and Digital entertainment, the growth of our sports cluster will remain a key priority. "
VIVO IPL 2016 will be aired in Hindi on Sony MAX and Sony SIX. In addition, Sony SIX will also carry Tamil, Telugu and Bengali language feeds. Sony SIX HD as well as the SONY ESPN cluster of channels will air the English language feed of VIVO IPL.
Sony pushes for a happy India in IPL campaign