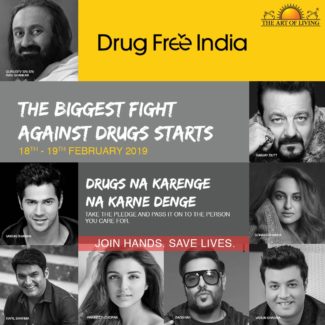 Bollywood, Thousands Of Youth, Join Hands With Sri Sri Ravi Shankar-founded Art of Living in The Fight Against Drugs
Celebrities supporting the Drug Free India campaign include Sanjay Dutt, Varun Dhawan,Badshah, Kapil Sharma, Sonakshi Sinha, Parineeti Chopra and many more.
12th  February, 2019, Bengaluru: By some estimates, 74% of Indian homes have at least one member who is an addict. 10 people commit suicide in India each day due to drug abuse. These aren't just numbers but scores of family lives, careers and relationships ruined. The steadily worsening problem of drug abuse among Indian youth has long called for collective action. As a response to this need, a nationwide campaign Drug Free India, an initiative of The Art of Living, will be launched on 18th February at Chandigarh University and at Guru Jambeshwar University of Science and Technology, Hisar, Haryana with the support of Government of Haryana on 19th February in the presence of Gurudev Sri Sri Ravi Shankar, who will be joined by popular Bollywood actor, Sanjay Dutt.
Other Bollywood celebrities including Varun Dhawan, Sonakshi Sinha, Parineeti Chopra, Kapil Sharma, and Badshah (find the quotes below) have also lend their support to Drug Free India, an integrated campaign with a 360 degree focus on combating the drug menace.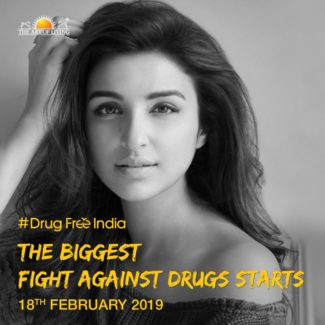 An estimated 60 thousand students will attend the event on both the days. Thousands colleges across the country will join via live broadcast and an millions will take the pledge against drug abuse simultaneously.
"When stress increases, man seeks to get rid of this stress and in this process gets into substance abuse," says Gurudev Sri Sri Ravi Shankar, Founder, The Art of Living, "When you train them in handling this stress effectively through spiritual tools like meditation, pranayam and Yoga then their perspective towards life changes totally. Otherwise, so many youth are destroying their lives by getting into addiction. To put an end to this menace, we are organizing this nation-wide movement called the Drug Free India." The Art of Living has mobilised thousands of its volunteers for this initiative, who are working round-the-clock to create SWAT (Social Wellness and Awareness Training) clubs across college campuses. These clubs will comprise of students, teachers, doctors and social workers who will spread the word against drug abuse throughout the year.
Actor Sanjay Dutt, who is known to have fought the addiction himself said, "I have experienced the menace of drugs first hand. I know the havoc it creates and so this cause is close to my heart. Me along with Gurudev Sri Sri Ravi Shankar are ready to take up the biggest fight against drugs."
Calling Drug Free India campaign the largest and the most important movement towards winning the fight against drug abuse in India, Dutt said, "The Art of Living is leading the Drug Free India Movement and many celebrities from our industry are joining the movement too, supporting it wholeheartedly. I want to help create as much awareness as possible. I appeal each citizen of our country to come forward and join the biggest fight against Drugs."
The Drug Free India movement has also found support in the Ministry of Human Resource Development, Government of India. "Life is beautiful but 'Nasha' (addiction) doesn't let us enjoy the beauty of life," Prakash Javdekar, Union Minister of Ministry of Human said in a video message, "There is a rise in cases of addiction. Good people have to come forward to fight this evil. I congratulate Gurudev Sri Sri Ravi Shankar and his associates for initiating the fight against the menace."
This is what celebrities are saying about the country's biggest battle against drugs:
"When you train the youth handle this stress effectively through spiritual tools like meditation, pranayam and Yoga then their perspective towards life changes totally. To put an end to this menace, we are organizing this nation-wide movement called the Drug Free India."
– Sri Sri Ravi Shankar, Founder of The Art of Living
"I appeal each citizen of our country to come forward and join the biggest fight against drugs and help make India Drug Free."
– Sanjay Dutt
"There is no point of having a voice if you don't use it for the right reasons. I'm very proud to use my voice and be a part of this extensive anti-drug campaign because it's something I strongly believe in. Drugs are not cool, and its about time people realize that."
– Sonakshi Sinha
"I am glad everyone has come together for this crucial cause "
– Parineeti Chopra
"India has the highest population of youth. And the biggest enemy of our youth today is drugs. I am ready to take this fight head-on",
– Varun Dhawan
"If all of us take this pledge, "Drugs Na Karunga Na Karne Doonga" I am sure we can eradicate this problem forever"
– Badshah
"Drugs aapki hi nahin aapke poore parivar ki khushiyan cheen leti hain. Hamara India, Drug Free India"
– Kapil Sharma
"Don't be a fool, drugs are not cool"
– Varun Sharma