Tata Motors to host Season 3 of the championship on March 20, at the Buddh International Circuit (BIC), Greater Noida
Mumbai:
– 17 Indian racers will participate in LEVEL 4, of the first T1 Racer Program (TRP), of which 12 Indian drivers will be selected to compete on Race Day
– Participation of 12 International Race Truckdrivers in Season 3, as in Season 1 & 2
– Season 3 to feature two race categories
Super Class – Comprising of Indian race truck drivers
Pro Class – Comprising of internationally acclaimed drivers
– Introduces new spec'd Race Truck for Season 3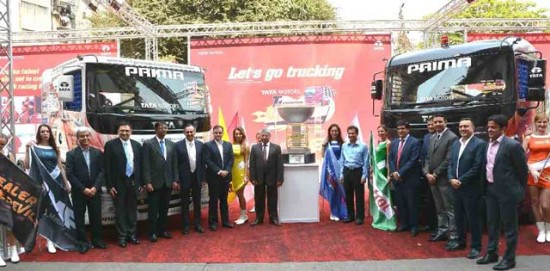 Tata Motors today shared details of 17 potential Indian truck drivers, who will compete against each other in the final round, Level 4, of the T1 Racer program (TRP), organised by Tata Motors, for the very first time. The final round of the TRP, will determine 12 Indian truck racing finalists who will compete against each other, in Season 3 of the T1 Prima Truck Racing Championship 2016, scheduled to be held the Buddh International Circuit (BIC), Greater Noida, on March 20, 2016.
Tata Motors also unveiled the new T1 2016 race truck, with a total 43 additional modifications, for a faster, more exciting Season 3.
Launched in 2014, the T1 Prima Truck Racing Championship was launched by Tata Motors to add an exciting new dimension of truck racing, to one of the largest trucking markets in the world. Over the last two years, the event showcased the best talent in International truck racing, as well as the latest advancements in trucking technologies by Tata Motors. While season 1 of the T1 Prima Truck Racing Championship witnessed over 25,000 spectators in its debut race, this was followed by over 50,000 cheering enthusiasts in Season 2, held in March 2015.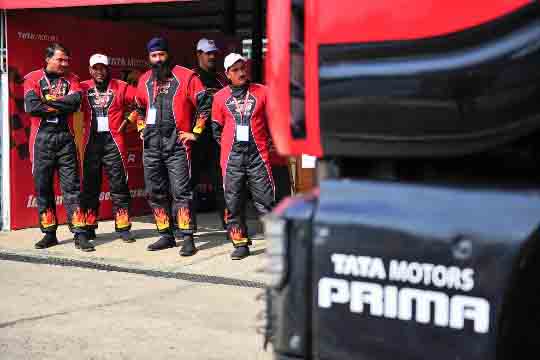 For season 3, Tata Motors kicked-off the T1 Racer Program. So far, 17Indian truck drivers have been selected via the program, from a pool of over 550 driver entries, from Tata Motors customer base. These 17 drivers will further be narrowed down to 12, tocompete against each other, at the internationally acclaimed Buddh International Circuit, Greater Noida.
Like in the earlier years, Season 3 of the championship will continue to host experienced international drivers representing six teams, featuring 12 Tata Prima race trucks, built for the purpose. On the race day, there will be two race categories, with four races
– Two Super Class – Comprising of Indian race truck drivers
– Two Pro Class – Two Pro Class – Comprising of Internationally acclaimed drivers with proven experience in the field of truck racing.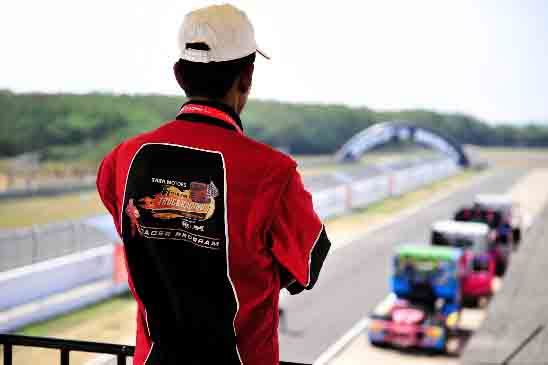 Tata Motors conceptualized and introduced a new Indian Race Truck Driver selection and training program, based on the company's strategic objective, of making the profession of truck driving aspirational,and at the same time, act as a catalyst to induct drivers, into the future of T1. This was primarily because, driving a commercial vehicle was not necessarily aconsideration for one's livelihoodany more, given harsh working conditions, constant pressures to deliver on time, along a number of multiple employment options that have come up in the last couple of year.Also given that professional truck racing was a concept alien to India, there wasn't a readily available pool of Indian drivers that could compete on the race track.This led to the inception of the 'T1 Racer Program', a driver development initiative, aimed at creating 'Prima Racers', out of ordinary truck drivers.
Commenting on the occasion, Mr. Ravi Pisharody, Executive Director, Commercial Vehicle Business Unit, Tata Motors, said, "Trucking is vitally important to the nation's economy and the T1 Racer Program has been designed to help put a name and face to the men, who deliver essential commodities across the country every day. Since inception in 2014, with the T1 Prima Truck Racing Championship, we had made a conscious decision to give Indian drivers an opportunity to be part of this prestigious event, and today,are in the process of selecting the final 12. We are proud to have collaborated with our customers for a shared vision in promoting the profession of truck driving and are excited and honored to have these individuals, as the newest members of the T1 Prima Truck Racing Championship."
Mr. R. Ramakrishnan, Senior Vice President, Product Strategy & Planning and Customer Value Creation, Commercial Vehicle Business Unit, Tata Motors, said, "In season 1 we created history, by hosting the very first truck race here in India. In season 2, we showcased race trucks that were 'Bigger, Better & Faster'. In season 3, Tata Motors is unfolding a new chapter in the history of Indian trucking, with a theme of 'India to the World' involving Indian talent, and is all set to create history yet again, in the one of the world largest commercial vehicle markets. With the T1 Racer Program having attracted over 550 nominations from our customers businesses, the ones shortlisted through the program today, are based on driving experience, average kilometers driven in a year, along with the experience of negotiating different terrains. 17 have passed the Level 3 of the Indian Truck Racer program. The final 12 will be decided after level 4. We wish them the very best."
While Season 3 will witness Indian drivers competing in black Prima race trucks, which are identical to each other – in look and built, the six teams competing in the Pro Class of the T1 Prima Truck Racing Championship Season 3, will represent teams, who participated in the previous two seasons of the championship, with one new team. These are –
1) Team Castrol Vecton (Last years' champions)
2) Team Cummins
3) Team Tata Technologies Motorsports
4) Team Tata Motors Finance
5) Team Dealer Warriors
6) Team Dealer Daredevils
Tata Motors hasalso partnered with some of the country's leading automotive brands, for Season 3 of the T1 Prima Truck Racing Championship. These are –
WABCO – Official Braking Technology Partner
JK Tyre – Official Tyre Partner
Castrol – Official Lubricant Partner
Cummins – Official Engine Technology Partner
Tata Motors Finance – Official Commercial Vehicle Financing Partner
Tata Technologies – Official Technology Partner
Tata Motors Announces 17 Potential Indian Racers for the T1 Prima Truck Racing Championship 2016