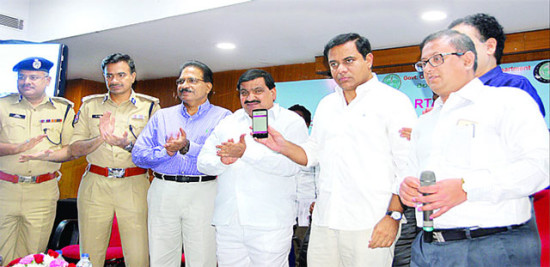 Hyderabad: Vehicle users in Telangana can now store their driving licence and other documents in their mobile phones and show it to enforcement officials as government has started a new mobile application for this purpose.
Information Technology Minister KT Rama Rao and Transport Minister P Mahender Reddy on Wednesday launched the Vehicle Mobile Wallet app at the Secretariat here.
Speaking on the occasion, the minister appreciated the transport department for the new app that would prove handy for the vehicle users. KTR also stated that the use of technology has been showing off revolutionary results in various sectors. The new mobile app would help vehicle users to store their documents related to vehicles that prove handy, KTR said.
People should get rid of inconveniences using such technology on their mobiles and other instruments, he said. The vehicle users can download the app for storing the documents.
With the use of technology, 14 per cent of crimes have come down in the state, the IT minister stated. "Earlier, there was no such use of IT and we are now able to use the same for rapid changes and get information on our palms," KTR said.
Mahender Reddy said that the mobile wallet app helps the vehicle users to a great extent. Those who download the app and store the documents can now show them to the traffic police or the RTA officials when they seek to check the documents. The m-wallet application is available on Android and IOS platforms.
The users can login from any mobile to access the transport document, simple and efficient single-screen display for all vehicle related documents, citizen friendly options to add multiple vehicles owned by same person and single download would save the documents permanently and would be handy for future use.
Telangana launches M Wallet app