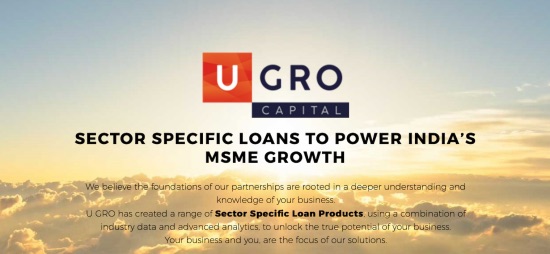 Reports AUM of INR 5,095 Cr, up 97% YoY, making it one of India's fastest and most stable built out of INR 5,000 Cr by gaining the trust of over 38,000 MSMEs
AUMof INR 5,095 Cr, up 97% YoY and 16% QoQ
Disbursementof INR 1,874 Cr, up 78% YoY and 13% QoQ
Achieved off-book AUMof 35%, up from 29% in Sep-2022, reached the desired off-book AUM target for FY23 in Dec'22
Net Total Incomestood at INR 108.0 Cr, up 131% YoY and 24% QoQ
PBTat 22.2 Cr, up 338% YoY and 27% QoQ
GNPA/NNPAat 1.7%/1.1%
Mumbai, January 25, 2023: The Board of Directors of UGRO Capital Limited approved the financial results for the Quarter and Nine-month Period ended 31st December 2022 at its meeting held on Wednesday, 25th January 2023.
UGRO Capital, a DataTech NBFC and pioneer of LaaS in India continues its growth momentum in the third quarter of FY23 and crosses INR 5,000 Cr AUM market. UGRO Capital's AUM stood at INR 5,095 Cr (as on Dec'22), up 97% compared to Dec'21. The company's Total Income Q3'23 stood at INR 189.6 Cr (up 123% YoY and 22% QoQ) and INR 466.6 Cr for 9M'23 (up 134% compared to 9M'FY22).
UGRO Capital has effectively leveraged the co-lending partnerships with off-book AUM at 35%, up from 29% as of September 2022. It has achieved its FY23 guidance of 35% off book AUM mix a quarter in advance. UGRO Capital has collaborated with ten co-lending partners, over 65 lenders, 25 fintechs, and 1,000 GRO partners to provide data-backed customized credit solutions to a large number of borrowers in the country's 150+ small tier 2 towns.
Brief Financial Snapshot
Particulars
Q2'FY23
Q3'FY23
Growth

(Q-o-Q)

9M'FY22
9M'FY23
Growth
AUM
4,375
5,095
16%
2,589
5,095
97%
Loans originated / Disbursement
1,653
1,874
13%
2,174
4,885
125%
Total Income
155.3
189.6
22%
199.3
466.6
134%
Interest Expense
68.5
81.6
19%
87.7
202.9
131%
Net Total Income
86.8
108.0
24%
111.6
263.7
136%
Operating Expenses
54.4
69.1
27%
79.2
172.6
118%
Credit cost
14.9
16.7
13%
20.3
40.9
102%
PBT
17.6
22.2
27%
12.1
50.2
313%
Tax
12.3
9.1
(26%)
3.7
24.4
564%
PAT
5.3
13.1
149%
8.5
25.7
204%
Commenting on the results, Shachindra Nath, Vice Chairman and Managing Director of UGRO Capital said, "We scaled our business, reached the INR 5,000 Cr AUM milestone, and met our FY23 off book AUM guidance a quarter ahead of schedule thanks to our unwavering focus on our core competencies, extensive use of data analytics in decision-making, and widespread acceptance in the banking and MSME industries. Our Q3'23 results, with the highest ever disbursement and improved profitability, demonstrate our unwavering commitment to growth. We continue to make progress towards the company's core profitability on QoQ basis.
We have already assisted over 38,000 MSMEs and disbursed over INR 10,500 crores. Taking the pandemic into account, we reached this level in about 2.5 years, beginning in April of 2019. This is incomparable, especially when compared to our overall credit performance, which is industry leading. Our underwriting model, GRO Score 3.0, is being upgraded to derive power insights and better underwrite the MSME segment, and we will soon launch a credit line on UPI for small businesses."
Key performance highlights for Q3'FY23
a)Growth, Expansion and Portfolio quality
AUM of INR 5,095 Cr (up 97% YoY and 16% QoQ)
INR 4,886 Cr of Gross Loans originated in 9M'FY23 (up 125% compared to 9M'FY22) and INR 1,874 Cr of Gross Loans originated in Q3'FY23 (up 78% YoY and 13% QoQ).
Total Income stood at INR 189.6 Cr for Q3'FY23 (up 123% YoY and 22% QoQ) and INR 466.6 Cr for 9M'FY23 (up 134% compared to 9M'FY22)
Net Total Income stood at INR 108.0 Cr for Q3'FY23 (up 131% YoY and 24% QoQ) and INR 263.7 Cr for 9M'FY23 (up 136% compared 9M'FY22)
PBT increased to INR 22.2 Cr in Q3'FY23 (up 338% YoY and 27% QoQ) and INR 50.2 Cr in 9M'FY23 (up 313% compared to 9M'FY22)
GNPA / NNPA as on Dec'22 stood at 1.7% /1.1%(as a % of Total AUM)
Over 38,000 customers as on December 2022
98 branches (as on Dec'22)
b)Liability and Liquidity Position
Total lender count stood at 67 as on December 2022
Total Debt stood at INR 2,885 Cr as on December 2022, and overall debt to equity ratio was 3x
Healthy capital position with CRAR of 21.54% (as on December 2022)
About UGRO Capital Ltd
UGRO Capital Limited is a Data Tech Lending platform, listed on NSE and BSE. Pursuing its mission of "Solving the Unsolved" for small business credit gap in India, on the back of its formidable distribution reach and its Data-tech approach.  (NSE: UGROCAP I BSE: 511742).
Company's prowess of Data Analytics and strong Technology architecture allows for customized sourcing platforms for each sourcing channel. GRO Plus module which has uberized intermediated sourcing, GRO Chain, a supply chain financing platform with automated end to end approval and flow of invoices, GRO Xstream platform for co-lending, an upstream and downstream integration with fintechs and liability providers and GRO Xapplication to deliver embedded financing option to MSMEs.
The credit scoring model GRO Score (2.0) a statistical framework using AI / ML driven statistical model to risk rank customers is revolutionizing the MSME credit by providing on-tap financing like consumer financing in India
UGRO has pioneered the "Lending as a Service" (LaaS) model in India and has effectively operationalized Co-lending relationship with 10+ Large Public Sector Banks and large NBFCs and built a sizeable LaaS book of more than 15% of its AUM through the GRO Xstream platform.
Company is backed by marquee Private Equity funds and family offices (raised INR 900+ Cr of equity capital in 2018) and aims to capture 1% market share and cross INR 20,000 Cr of AUM by FY25.
Read More Articles on Estrade Finance
UGRO CAPITAL ANNOUNCES FINANCIAL RESULTS
FOR THE QUARTER AND NINE MONTH PERIOD ENDED 31st DECEMBER 2022