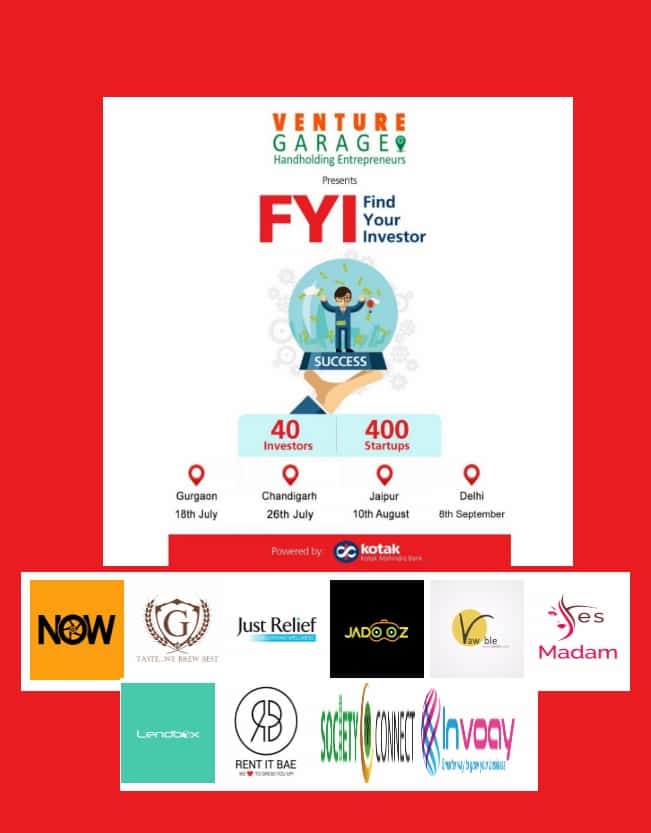 Delhi, India/News Voir//– The fourth and final event of the "Find Your investor" (FYI) series of events, was conducted at IIT Delhi in association with Kotak Mahindra Bank (Kotak). After 400+ startups, 40+ investors and 30+ ecosystem partners attending the first three editions of FYI in Gurgaon, Chandigarh and Jaipur, Delhi saw a turnout of 300+ enthusiastic and charged up entrepreneurs and 25+ investors hunting for exciting opportunities which challenge the status quo.
The highlight of the program was a short fire-side chat with Rahul Singh, a corporate professional turned entrepreneur, and the Founder & CEO of  The Beer Café, with 35 locations across 12 cities and Ashish Kashyap who has built multiple internet and technology businesses such as Goibibo, redBus, Gaadi.com and PayU India. On being asked what motivated him to turn towards entrepreneurship Ashish said, "India is such a large country with so many needs. Technology, especially the internet, was becoming the go to option at that time to cater to these needs. But a lot of this disruption was coming from abroad and that brought with it a resentment that why can't it be done in India. That's what motivated me to start thinking of home grown ideas." Rahul Singh said, "Entrepreneurship is about passion. I'm not a restaurateur but I wanted to do something in F&B. I had already done a failed venture before starting The Beer Café in which I lost almost all of my money that I earned in my corporate life. Even then, quitting was not an option."
There were two panel discussions with 10 leading venture capitalists from all parts of the country including founders of some leading funds – Ravi Kaushik (WaterBridge Ventures), Girish Shivani (Yournest Venture Capital), Pranav Gupta (Carpediem Capital), Kunal Khattar (Advantedge VC), Rajesh Sehgal (Equanimity Investments) to name some. During the discussion the VCs touched base on important topics such as their investment decision making process and how they take a call on which venture to invest in. "We like entrepreneurs who have failed in their past venture as failure is the biggest key to success in entrepreneurship. While it gives you strength, it also gives the entrepreneur ideas to pivot," – Kunal Khattar, Founder of Advantedge VC fund. Rajesh Sehgal, Founder of Mumbai-based fund Equanimity Investments added, "Commitment is of utmost importance. No matter how strong the team, if even one of the founders is working on the venture part time, we will not invest."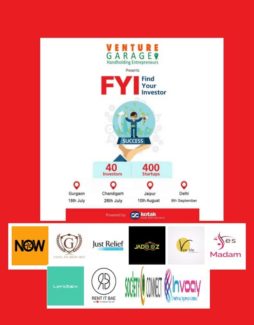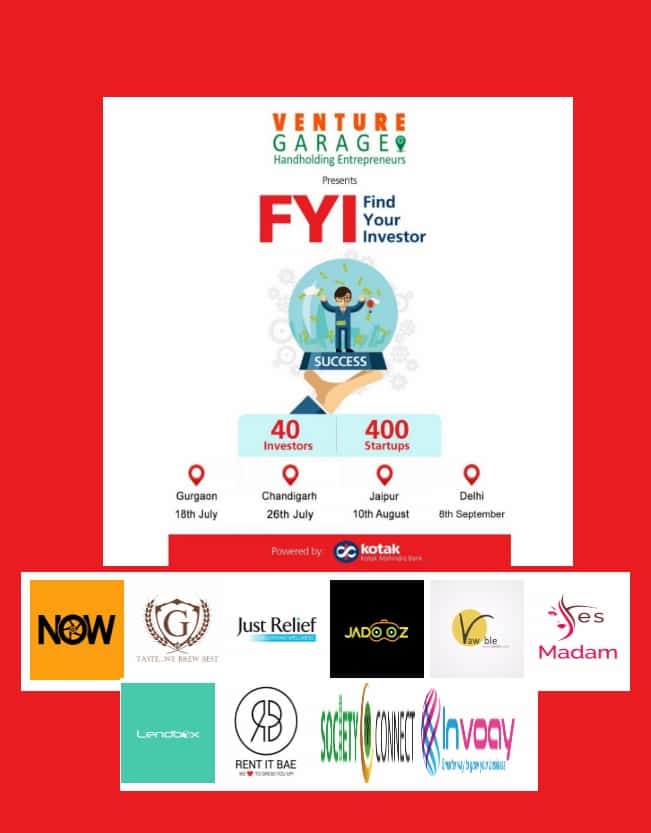 25 startups (chosen from about 1,200 entries across India) also got a chance to pitch to investors one-on-one with a view to have follow on conversations with the investors post the event to explore actual investment. A lot of startups have walked out with good interest from multiple investors. Here's the full list of active investors in India who joined the one-on-one pitch session – Pranav Gupta (Carpediem Capital), Addison Appu (Thinkuvate), Aayush Jain (Unicorn India Ventures), Ridhish Talwar (Advantedge VC), Nayrhit Bhattacharya (IDG Ventures), Rachit Chawla (Finway Capital), Paresh Jain & Sanjeev Jain (Arvicon), Kapil Malhotra (Total Solutions Group), Amit Singhal (Startup Buddy) & Akshay Taneja (TDI Group).
While the program covered the nuances of raising capital, banking, and legal aspects, the FYI Program has become a go-to platform for the new-age entrepreneurs to interact with investors one-on-one, enabling them to find the right investor(s).
Vivek Kumar, CEO of Venture Garage, commented "We are really proud and humbled to create a platform for startups to connect with investors. The goal is to enable new and cutting-edge enterprise that can go on to become unicorns and become a significant force in moving the Indian economy to the next stage."
"Venture Garage is committed towards enabling entrepreneurship in India. The success of FYI is one of the biggest motivations for us to continue doing more events across the country. We will soon be coming to southern India with more events," said Vineet Sagar, Managing Director, Venture Garage.
Puneet Kapoor, Senior Executive Vice President, Kotak Mahindra Bank said, "Being a start-up is akin to taking the road less travelled. The challenges are aplenty – from idea generation and formulating business strategy to fund raising, market outreach and focusing on execution. in the midst of all the challenges that start-ups face, we are leveraging our expertise in the area of banking and finance, to extend a seamless experience to entrepreneurs."
We look forward to announcing the next series of FYI events shortly. See you soon once again.
About Kotak Mahindra Bank Limited
Established in 1985, Kotak Mahindra Group is one of India's leading financial services conglomerates. In February 2003, Kotak Mahindra Finance Ltd. (KMFL), the Group's flagship company, received banking license from the Reserve Bank of India (RBI), becoming the first non-banking finance company in India to convert into a bank – Kotak Mahindra Bank Ltd.
Effective April 1, 2015, ING Vysya Bank Ltd. merged with Kotak Mahindra Bank Ltd. As on June 30, 2018, Kotak Mahindra Bank Ltd., has a national footprint of 1,391 branches and 2,231 ATMs.
The Bank has four Strategic Business Units – Consumer Banking, Corporate Banking, Commercial Banking and Treasury, which cater to retail and corporate customers across urban and rural India.
For more information, please visit the company's website at http://www.kotak.com/.
About Venture Garage
Venture Garage handholds early stage businesses and startups in the areas of fund raising, go to market, strategic guidance & technology. Established in 2015 and with offices in Mumbai, Bengaluru and NCR, Venture Garage manages a network of 500+ Angel Investors, Venture Capitalists, Strategic Investors, Family Funds and Accelerators/Incubators apart from 30,000+ entrepreneurs.
For more information, please visit the company's website at www.venturegarage.in.
Venture Garage & Kotak Mahindra's "Find Your Investor"