WalmartLabs Helps Empower Women and Girls in India Through its Grants to Sahasra Deepika Foundation and Sparsha Trust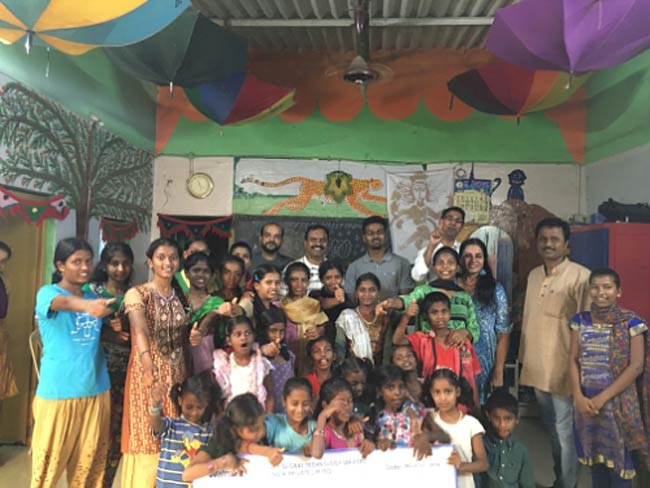 WalmartLabs, part of Walmart's Global eCommerce division, announced a grant to the Sahasra Deepika Foundation to provide residential housing and care for girls. WalmartLabs is also assisting Sparsha Trust develop an eco-friendly and self-sustained shelter in Bangalore, which includes a multi-dimensional learning centre (MDLC). WalmartLabs will help Sahasra Deepika Foundation expand their facilities to serve up to 100 girls. Founded by Dr. TV Ramakrishna and Mrs.Vijaya Ramakrishna, Sparsha provides shelter and education to underprivileged girls to help create a brighter future.
Ms. Sarva M Rajendra, Trustee, Sahasra Deepika Foundation said, "The grant from WalmartLabs India will make our dream of providing residential education and care to 100 girls at Sahasra Deepika move closer to reality. For 18 years, Sahasra Deepika has been educating and empowering children in need. We thank the WalmartLabs CSR committee for their support and for helping us to enlighten more lives through education."
Mr. Jayakumar Kulakada, MD of WalmartLabs India said, "When we look locally at the real needs for women's growth and economic empowerment in our own community, our goal is to tackle the issue in a way that it inspires others."
As part of the larger Walmart Women's Economic Empowerment initiative, WalmartLabs aims to empower underprivileged girls in India, by providing an opportunity for personal development and life skills. Over the last two years, WalmartLabs has joined with charitable organizations to help accomplish this aim. WalmartLabs' 'back2school' drive with Sparsha Trust, to help create quality education, and the 'Little Stars' initiative, which gives girls from Sahasra Deepika Foundation an opportunity to spend time with WalmartLabs associates with the hope that this will help lay the foundation for young curious minds to be future innovators.
Mr. Gopinath.R, Trustee, Sparsha Trust (R) said, "We are thankful to WalmartLabs for their generous support and involvement for the last three years by the way of fulfilling educational needs of children. Their direct involvement reduced Sparsha's burden significantly, and we are able to reach more children with quality education in the areas that matter most."
Walmart and the Walmart Foundation are creating opportunities for people to live better every day. Walmart's Women's Economic Empowerment Initiative (WEE) aims to train nearly one million women, increase Walmart's sourcing from women, and, in doing so, improving the lives of underserved women across the globe.