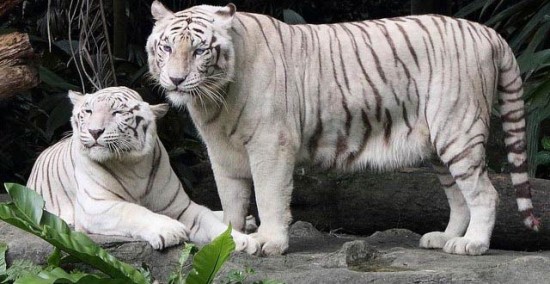 MP: Madhya Pradesh Chief Minister Shivraj Singh Chouhan inaugurated the worlds maiden White Tiger Safari at Mukundpur in Satna district in the states Vindhya region where the feline was first discovered more than 100 years ago.
The first of its kind safari has cost Rs 50 crore and is spread over an area of 25 hectares.
Union Environment Minister Prakash Javadekar, Steel and Mines Minister Narendra Singh Tomar, Chief Minister Chouhan and MPs Public Relations and Energy Minister Rajendra Shukla, among others, dedicated it to the public.
Inaugurating the safari amid cheers and applause from than one lakh people, Chief Minister Chouhan said it was a historic moment for the state.
"I am very happy and elated. Mukundpur in Vindhya region has got worlds first white tiger safari.
"Vindhya region gave world the first white tiger. However, it was robbed of its speciality with the death of a white tiger Virat in 1976. Since then, the region was waiting for a white tiger and today, after 40 years, peoples aspirations have been fulfilled," Chouhan said.
He announced that the safari would be free for visitors for one week.
"The Safari would generate employment opportunities for the people and the state would be benefited," Chouhan said, adding, it will be named after Rewa princely states ruler Maharaja Martand Singh.
Javadekar congratulated Chouhan on establishing the safari, which he said has fulfilled the long-nurtured dream of the people of MP to have white tigers in their zoos. The state had introduced that breed of feline to the world, he said.
"World leaders from more than 12 countries where white tigers are available in zoos would be invited to India for a conference. Prime Minister Narendra Modi would inaugurate the conference and hold talks with them," the Union Minister said.
"The sanctioned amount for establishing the safari was Rs 50 crore and so far estimates suggest that the amount has been utilised. It remains to be seen if there is a need to revise the amount in future," Shukla said.
He said the safari has put the name of Mukundpur on global level.
With its inauguration, the safari, housing three white tigers, including one male named Raghu and two females, Vindhya and Radha, is now officially open for public.
"As of now, there are three white tigers and two Royal Bengal tigers. The safari will house nine white tigers in the coming months for which talks are being held," Shukla told PTI.
White tiger safari inaugurated in MP's Satna district