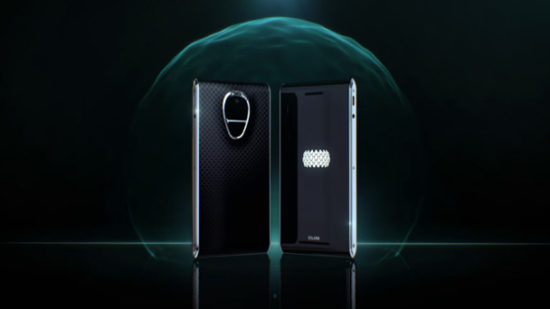 Bringing speculations to an end, Israeli start-up Sirin Labs has officially unveiled its high-end $14,000 (over Rs 9 lakh) Android smartphone that promises chip-to-chip 256-bit encryption similar to what the military uses to protect communications.
Dubbed as the 'Rolls Royce of smartphones', the device called Solarin is activated via a physical security switch on the back and was launched on Tuesday at an event in London, venturebeat.com reported.
Solarin packs in Qualcomm Snapdragon 810 processor, promises "far superior" Wi-Fi connectivity, has a 23.8MP rear camera and a 5.5 inch IPS LED 2K resolution screen.
For the Solarin promises "the most advanced privacy technology, currently unavailable outside the agency world", Sirin Labs has joined hands with communication security firm KoolSpan.
According to Sirin Labs, it wanted to "create the most advanced mobile device that combined the highest privacy settings, operated faster than any other phone, built with the best materials from around the world."
"Cyberattacks are endemic across the globe. This trend is on the increase. Solarin is pioneering new, uncompromising privacy measures to provide customers with greater confidence and the reassurance necessary to handle business-critical information," Tal Cohen, CEO and cofounder of Sirin Labs, was quoted as saying.
"Every single design decision and material choice was based on performance and functionality," added Fredrik ijer, vice president (products) at Sirin Labs.
The device for the rich and famous is available at Sirin Labs first retail store in Mayfair (34 Bruton Place), London from June 1 and at Harrods, Knightsbridge from June 30.
The luxury smartphone is not a new phenomenon. In 2006, Nokia launched a $310,000 "Signature Cobra" device in 2006 and the $5,000 "Constellation" smartphone in 2011.
In 2012, Nokia dropped luxury-phone brand maker Vertu. After leaving Nokia, Vertu brought its first Android device "Vertu Ti" to market.
According to media reports, the smartphone was priced at a whopping Rs 6,49,990 in India. It has dual-core 1.7GHz processor along with 1GB of RAM and 64GB of internal storage.
According to Vertu, its smartphones have 184 individual parts. The body is made by Grade 5 titanium, and has a set of Bang and Olufsen stereo speakers.
The sapphire crystal renders the screen virtually scratch-proof and it is tested to be four times stronger than other smartphones in terms of impact resistance, it had claimed.
Vertu was later acquired from Swedish private equity group EQT by a consortium of Chinese investors.
World's costliest smartphone unveiled at $14,000