Xume Inks Groundbreaking Partnerships Poised to Revolutionize Health Wellness and Nutrition
Xume, India's First AI-Powered Grocery Scoring and Recommendation platform, has taken a huge leap forward by joining forces with, Microbiome.in (Microbiome Research Pvt Ltd); a pioneer in driving cutting-edge research in the field of gut microbiome and, TruDiagno; a fast-growing, innovation-driven diagnostics startup with state-of-the-art laboratory facilities and an expanding array of molecular diagnostics tests.
With a shared commitment to preventive healthcare, the trio seeks to empower individuals with individualised in-depth diagnostics and convert that information into actionable real-time intelligence. They aim to empower individuals to make informed choices based on the state of one's gut microbiome and key diagnostic markers, propelling preventive healthcare to a new and personalised level. Microbiome.in, has the only private lab with an in-house Illumina and Nanopore (portable) Sequencer, enabling unparalleled research on the role of gut microbiome, while TruDiagno adds advanced molecular diagnostic capabilities to the mix.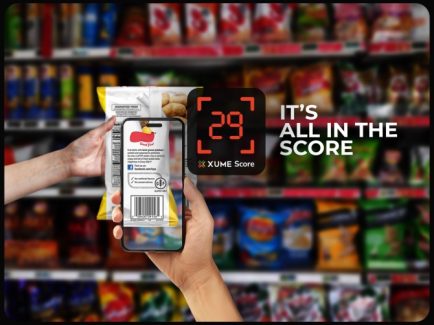 Together with Xume's AI enabled recommendation platform, the collaboration will seamlessly enable users to adopt a real-time preventive health approach without unnecessary compromise in terms of lifestyle and food choices in a cluttered market which is currently plagued by false health claims and misinformation. It will leverage Xume's database currently consisting of more than 60,000 products, 10,000 ingredients, 2000 plus recipes, and 3,500 brands across the Indian grocery ecosystem.
"We're all unique, so how can a generic solution mired in restriction be the answer to good health? Imagine the power of understanding our microbiome and diagnostic markers to drive actionable intelligence; where the answer is not giving up our favourite foods but simply making better choices based on what our gut and body are telling us. This is the future of health and wellness and what our partnership with Microbiome.in and TruDiagno endeavours to do." said Akshaye Jalan, Founder & CEO, Xume.
The synergies between these organizations reflect a shared commitment to disrupt the preventive health and nutrition industry, providing users with an all-encompassing solution that genuinely empowers them to lead healthier lives."We're really excited to be part of this truly game-changing collaboration. The fusion of our expertise opens up incredible possibilities and the potential to a turning point in preventive healthcare. Operating at the intersection of gut health, molecular diagnostics tests and personalised nutrition, users will be amazed by the level of insight we'll be able to empower them with." added, Ravi Shroff, Founder & CEO of Microbiome.in (MRPL) and, Co-promoter of Excel Industries Limited.
As Xume, Microbiome.in, and TruDiagno embark on this transformative journey, they envision a world where individuals can harness the power of technology, data, and expert guidance to make smarter, proactive choices about their health, nutrition, and wellness, ultimately leading to higher quality of life free from lifestyle diseases.
"Trudiagno's commitment to accurate diagnostics aligns perfectly with the goals of Xume and Microbiome.in. Our joint effort will redefine how individuals approach their well-being and bring meaning to a lab report. Together, we'll pave the way for a healthier, happier society." asserted, Sandip Khairnar, Director, TruDiagno.
About Xume
Xume, seven years in the making, is India's first AI powered personalised grocery scoring and recommendationplatform.  The Xume database encompasses more than 60,000 SKUs, 10,000 ingredients, 2000 plus recipes and almost 3,500 brands across the Indian FMCG ecosystem.  Proprietary algorithms break down products at a molecular level, analysing ingredient quality, nutrient density and level of processing and matching it to a user's dietary preferences, health goals, lifestyle and allergies to generate a real time personalised Xume Score.  Consumers don't need to decipher ingredient lists or decode nutritional labels; a simple barcode scan otherwise used for inventory management tells them if that product is suitable.  A simple tap recommends better alternatives, even helping consumers find the best possible deals.  Xume is revolutionising the consumption-verse offering solutions for consumers, brands, retailers, wellness, insurance and healthcare ecosystem.
About Akshaye Jalan, Founder & CEO, Xume
Akshaye is a serial entrepreneur, with a passion for solving complex problems in the consumption, education, and healthcare ecosystem.  Forced into his family's domestic focussed textile business at just the age of 16, he turned it into one of India's largest exporters of bed linen to the EU by the time he was 19.  Inspired by his success and the need to do more, he floated his first entrepreneurial venture at just 19 and has built and exited companies in textiles, FMCG, and education across Europe, US and Asia.  A Beta Gamma Sigma and Coca Cola Fellow and Scholar, Akshaye has a Master's in International Business (double major). A more recent personal tragedy with close family members forced him to turn his attention to the state of health and nutrition in India.  Quickly ascertaining that the alarming rise of lifestyle disease was deeply linked to what individuals were consuming, often misdirected as "health" food, he has spent the last 7 years on cutting-edge research and development within the Indian food health matrix.  This led to him to launch his latest venture, utilising proprietary AI to build India's first personalised grocery scoring and recommendation platform, Xume. His goal is to revolutionise consumption by ushering in an era of transparency and empowerment to meaningfully impact lives.
 Read More Articles on Estrade Technology
Xume Inks Groundbreaking Partnerships Poised to Revolutionize Health Wellness and Nutrition