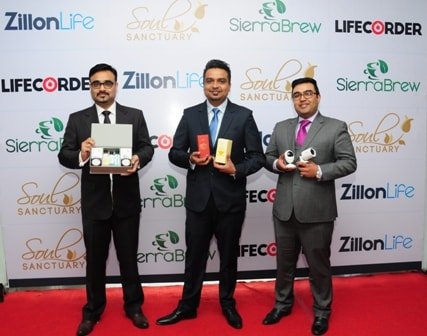 New Delhi, Delhi, India/News Voir//–
Indian Direct Selling company dealing in Security, Surveillance and Lifestyle Products.
Plans 50 new products and its own manufacturing facility by 2018
The company has been incorporated under The Direct Selling Guidelines 2016
Shri. Ram Vilas Paswan, Hon'ble Minister for Consumer Affairs, Food & Public Distribution announced the launch of Zillonlife in New Delhi
Lifecorder (electronic security and surveillance), Soul Sanctuary (Bath and Body products) and Sierra Brew (Premium Quality and Organic Teas) were introduced for security, surveillance and lifestyle buyers
Zillonlife Global Pvt. Ltd. today announced the direct sales channel launch of its revolutionary product portfolio to cater to security, surveillance and lifestyle buyers. The company product portfolio "Lifecorder", "Soul Sanctuary" and "Sierra Brew" to cater to security, surveillance and lifestyle buyers. The launch was also graced by eminent delegates from Asian Professional Security Association (APSA), FICCI direct selling committee & Indian Direct Selling Association (IDSA) who have been the guardian and custodian of Direct Selling Industry in India.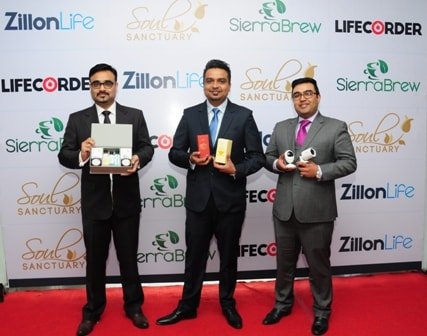 Zillonlife Global Pvt. Ltd. is a first of its kind Direct Selling Company in India with electronic security solutions as its primary product line and a 100% online ordering and fulfilment model. The company isfounded by a team of high-achievers withexperience in IT, ITES and BFSI sectors with Rishi Raj Mishra, as its Chairman and Mandeep Sharma as the Managing Director, Zillonlife Global Pvt Ltd. who have extensive experience in direct selling & security industry that aims to provide good quality premium products at affordable prices.
Congratulating on the launch, Shri Ram Vilas Paswan, Minister for Consumer Affairs said, "There is immense potential in the direct selling market and hence we have been continuously working on protecting the interests of the consumers, direct sellers and the companies in direct selling industry through government guidelines. New innovative direct selling companies like Zillonlife, are flagbearers of government initiatives like Skill India, Digital India, Start-up India and Women Empowerment and must aspire to contribute to the Indian growth story. The ministry will work in close co-ordination with companies for fostering the growth of a healthy direct selling market. Zillonlife should be working in compliance with the new guidelines and have registered with the ministry of consumer affairs. I wish them the very best for their future endeavours"
FICCI direct selling committee chairman Rajat Banerji said the sector, with an estimated turnover of Rs.8,000 crore, had the potential to touch Rs.65,000 crore by 2025 – "With the Direct Selling Guidelines 2016, the Government has brought in much needed regulatory clarity to this industry. We now seek legislative clarity," he said.
In the financial year 2017-18, Zillonlife plans to open 15 new branch offices in Mumbai,Pune, Bangalore, Hyderabad,Chennai, Lucknow, Patna & North East, expand its strong distributor network across major metros and in the States of Uttar Pradesh, Bihar, Jharkhand, Karnataka and five North East States. The Company also announced that it would add 50 new products to its product portfolio across the various segments.
Reiterating the Company's credibility and commitment to market, Rishi Raj Mishra, Chairman, Zillonlife Global Pvt. Ltd., stated, "Zillonlife has been launched after extensive research to explore the most beneficial product having the best consumer benefits. We believe direct marketing is the ideal channel through which we can educate consumers about the advantages of our company's affordable and quality products with strong network of after sales service and help to establish their everyday use in homes across the nation. Our approach is structured to bring products to consumers more quickly than would be the case through retail stores. We are confident that using the grassroots power of direct selling and unique product positioning will help us to become the leader in this category."
"We are honoured to have Shri Paswanji launch our Company in India market. It's a huge motivation to our team to commit ourselves to the country's direct selling market and grow with a growing industry," he further added.
Adding to the commencement of the Company's operations, Mandeep Sharma said, "Currently Zillonlife sources most of its products from vendors within India and we have plans to set up our own manufacturing plant for our product lines, by 2018. We are committed to contributing to government's endeavour in building sustainable businesses and promote entrepreneurship in the country and help in providing self-employment opportunities to thousands of Independent Business Consultants across the country."
Zillonlife model involves the marketing of products directly to consumers in a person-to-person manner without retail outlets or wholesalers. The marketing generally happens from home or workplace through explanation and demonstration by Direct Sellers known as Independent Business Consultants (IBCs) of ZillonLife. Being a specialized channel of distribution, which is neither wholesale nor retail, it covers both business-to-business and business-to-consumer aspects. It offers genuine business opportunities as it involves sustainable sales plan of goods and hence provides entrepreneurship opportunities to thousands of Indian people looking for a primary or alternate source of income generation.
Instead of a physical servicing model, Zillonlife works on a 100% online ordering and fulfilment model for optimizing operating costs and making the business more competitive. The e-commerce solution allows the Independent Business Consultants to spend more time in customer-facing and less time in ordering, processing and administration as it is crucial, to help customers know what and how to buy.
About Zillonlife Global Pvt. Ltd.
Zillonlife Global is a young and vibrant direct sales company that aims to provide good quality premium products at affordable prices. The product line caters to security, surveillance and lifestyle buyers through its E-commerce platform, highly experienced team, agile warehouse systems and state of the art customer care centre. Zillonlife Global Pvt. Ltd., headquartered in New Delhi has a widespread after sales service and installation support for pan India. Zillonlife is an ISO 9001: 2008 Certified company and its products are manufactured in GMP certified facilities.
Zillonlife Global Pvt Ltd Launches Direct Sales Business in India