1BHK for Rs 5 Lakh – Pune's Maple Group the 1stcompany to respond to clarion call of "Housing For All"
10,000 Smart 1 BHK flats to go for registration across 12 locations in Pune
Over Rs. 500 crore of turnover for EWS Group with this project
Maple Group expects 1,00,000 applications for registration, and only the lucky ones who make it will be allotted the smart 1 BHK flats on Maharashtra Day, 1st May 2016
Guinness World Records – Maple Group to apply for the record so as to propagate Government's Housing for All program
Smart 1 BHK flats will range from 300 – 350 square feet
Registration process will start from Thursday 14th April and end on Monday 25th April 2016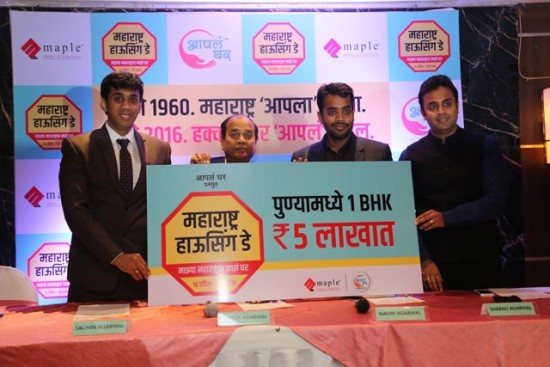 Pune: Responding to the clarion call for "Housing for All", two-decade old Pune-based Maple Group has today announced the launch of its Maharashtra Housing Day initiative wherein it will offer home seekers Smart 1 Bedroom-Hall-Kitchen flat for Rs 5 lakh (excluding government levies and development charges). Under the aegis of its marque brand Aapla Ghar, Maple Group will provide Smart 1 BHK homes ranging from 300 – 350 square feet in Pune. A total of 10,000 Smart 1 BHK flats will be built over a period of 2-3 years starting from 1st May 2016.
These 10,000 Smart 1 BHK flats will be spread across 12 locations in Pune, namely:
1. Chakan Talegaon
2. Moshi Annex
3. Wagholi Annex
4. Sanaswadi
5. Ranjangaon
6. Wai
7. Shirwal
8. Urali Kanchan
9. Kondhwa Annex- Bhopgaon
10. Paud
11. Talegaon Dhamdere
12. Shikrapur
Commenting on the launch Mr. Sachin Agarwal, Chairman & Managing Director, Maple Group said: "Since 1997 Maple Group is a firm believer in providing affordable housing to the common man, without compromising on quality. 'Affordable' does not mean 'Inferior' and it is with this ethos that we provide modern amenities for a healthy and happy living experience under our brand name Aapla Ghar. Today we are embarking on a journey to provide mammoth 10,000 homes for which the allocation will happen on single day, Maharashtra Day, that is, 1st May. We have requested the Chief Minister of Maharashtra to handover the allotment letters to the lucky ones. We will be applying for Guinness World Records as part of our endeavour to propagate the Government's Housing for All program".
He continued: "Our marketing campaign kick starts from today and the registration process will start from Thursday 14th April till Monday 25th April, 2016. We expect a huge response to the tune of 1,00,000 applications for registration and hence the lucky ones who will make it to the 10,000 club will be given a letter of allotment on 1st May, 2016."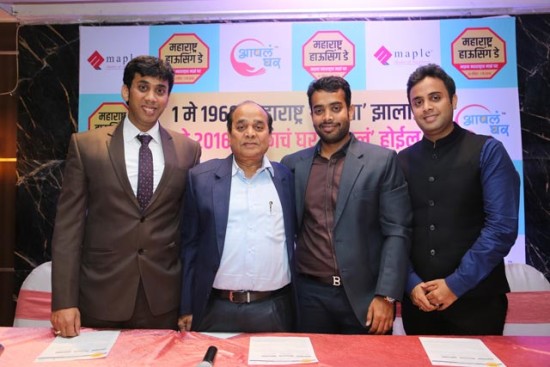 Maple Group has kept the booking process very simple. Buyers will have to first submit the application to register through a form-fill that will cost them Rs 1,000 (non-refundable) to receive allotment letter on 1st May. These forms will be made available through newspaper advertisements, Maple Group office or by visiting the company website. And that is it!
After receiving the letter of allotment on 1st May, the home seeker will have to pay down payment of Rs 50,000 only. Maple Group has tied up with State Bank of India as its banking partner for this project and the "eligible" customers can apply for home loan. The EMI (equated monthly instalment) will be Rs 5000 for a period of fifteen years. Documents required are Aadhar card, PAN card, Voter ID and Driving license.
It should be noted that as part of the 'Housing for All' initiative, formulated under the Pradhan Mantri Awas Yojana, the government has charted out four approaches to provide low-cost housing — slum redevelopment on the existing plot, an interest subsidy scheme, creation of housing stock on a public-private participation model, and beneficiary-led individual houses. Using these approaches, the government can create houses of up to 30 SqM for the economically weaker sections and 60 SqM for the lower-income groups. The Union government will provide funding of Rs 1.5 lakh per tenement created under the scheme, while the state government will top it up with another Rs 1 lakh. The state government has also relaxed the income criteria for economically weaker sections and lower-income groups to bring it in line with the Centre's directive.
1BHK for Rs 5 Lakh – "Housing For All"