Mumbai, January 2023: It's not everyday that a chef who has prepared meals for four US Presidents and of course four generations of the royal family, visits your campus. But that's exactly what the students of V. M. Salgaocar Institute of International Hospitality Education (VMSIIHE) experienced when Swiss Chef and restaurateur Anton Mosimann graced the VMSIIHE campus in Goa with his magic.  
Perhaps, Chef Mosimann is most remembered for having curated the wedding banquet for Prince William and Kate Middleton in 2011. He also prepared meals for 21 monarchs at Buckingham Palace for Queen Elizabeth's Diamond Jubilee a few months later. He says, "I was in Paris when I received a call inviting me to curate and execute a menu for Prince William and Kate Middleton's wedding.
Each time I've prepared food for the Royal family, it has been a special experience. In fact, Princess Diana would visit my restaurant and I remember her complimenting my recipe for risotto. The family is quite particular about a light and healthy diet which is why I'm guessing they took a liking to my food. I believe my cooking style, cuisine naturelle, places emphasis on health as it limits the use of alcohol and fat."  
The awardee of the Swiss Culinary Merit of Honor 2021 was present at the VMSIIHE to share his insightful knowledge with the hospitality and culinary students and display the making of some of his unique recipes like Risotto ai funghi, Symphonie de fruits de Mer, Steamed fillet of seabass with sauce vierge.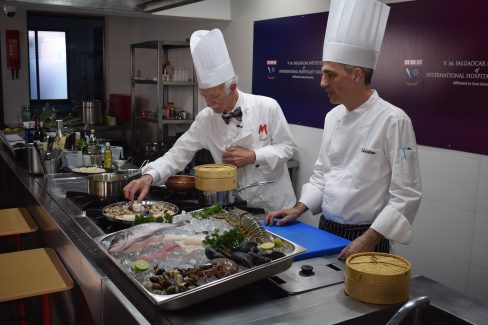 "Indian cuisine will always have a special place in my heart. In fact, my favorite restaurant in London is all about Indian food. People say it's too spicy, but I don't mind it. Spicier the better for me. Indian cuisine is very popular globally and I have seen the increase in its popularity over the course of the past few years because there are so many Indian restaurants coming up in every country. People love how different it is and how it's flavours stand out from other kinds of food." says Chef Mosimann.  
Taking Chef Mosimann on a spiritual and culinary journey through India, VMSIIHE welcomed him with an traditional aarti and had him indulge in a gastronomical fiesta of cuisines from multiple states titled 'Indian Food Theatre' at the gala dinner hosted by the Institute. Chefs and industry experts from all over the state were present at the dinner, making it a conglomeration of varying thoughts and opinions.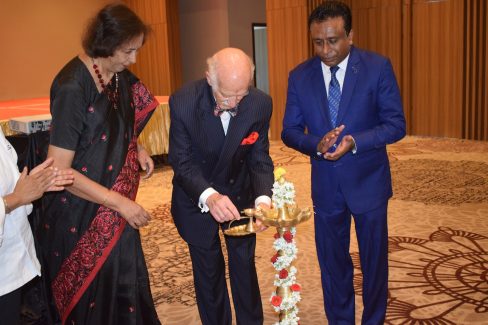 On his experience, Chef Anton says, "India is one of my favorite countries to visit. This time, I was given such a resounding welcome by the students and faculty of VMSIIHE that I even felt myself getting a little emotional. The students I've met here are eager to learn and have a sense of discipline which is so very important in the hospitality and culinary industry. I hope through my interaction with them I was able to inspire them and give them a push in the right direction." 
Professor Irfan Mirza, Director and Principal of VMSIIHE says, "It seems like a dream come true to have someone like Chef Mosimann on our campus. I wholeheartedly believe in learning by example and through this visit, we are giving our students an opportunity to meet and interact with a man who is a master at what he does and is one of the most inspiring figures I know. We are honoured to host Chef Mosimann and learn from his success and expertise."  
In 2016 a museum dedicated to his life and culinary arts was opened in the César Ritz Colleges, from where he had the chance to interact with VMSIIHE alumni.The prestigious César Ritz Colleges Switzerland and VMSIIHE have joined forces signing an MOU which allows graduates from VMSIIHE to pursue their higher education.