– At just Rs. 5/km, the Ola app makes Autos economical with standardized fares in Gurgaon & Noida
– Over 3,000 autos in Gurgaon and Noida, at launch; plans to ramp up the numbers by 15,000 in six months
– Introduces new transparent and easy billing system
Ola, India's most popular mobile app for transportation, today announced launch of auto-rickshaws on its app, in Gurgaon and Noida. This will allow citizens to book their auto rides from the comfort of their home or office within minutes at standardized fares, bringing immense economy and predictability on their auto rides. With the launch in these two markets, Ola Autos are available in 12 cities across India, viz. Bangalore, Chennai, Delhi, Ahmedabad, Hyderabad, Pune, Chandigarh, Indore, Jaipur including Gurgaon, Noida and Mysore which were launched.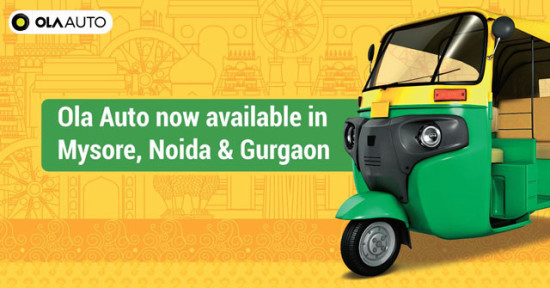 The conventional process of hailing an Auto-rickshaw is cumbersome for citizens, given the challenges on availability and fares. With an assurance of traveling at a standard fare, commute in an Ola Auto becomes convenient and hassle-free without having to haggle over fares with auto-drivers. Customers can track their rides on the app and also share their ride details in real-time on a live map with friends and family. Ola Autos are available 24×7 in Gurgaon and Noida at Rs. 5/kilometer and an ETA of less than 5 minutes within the city. Ola has also launched a new billing system that will record the details of the trip including time of booking, distance travelled and fare payable, either in cash or through Ola Money. Users can request a bill on completion of their ride from the Ola app.
Nitesh Prakash, Senior Director – Operations at Ola, said, "We are excited to extend Ola Autos to Gurgaon and Noida now after seeing tremendous adoption from customers and drivers in Delhi since launch. Users in these cities will now be able to book an auto with a single tap on the Ola app and get access to a convenient, hassle-free and pocket-friendly commute option within minutes. While Autos are the most ubiquitous form of personal transportation in Gurgaon and Noida, a consistent experience on booking and fares will go a long way in addressing the mobility needs of citizens. This will also make it efficient and convenient for Auto driver-partners on the Ola platform by giving them access to consistent demand and help improve their earnings. We are committed to our mission of building mobility for a billion people, by enabling a wide range of mobility use cases on the Ola app at all times."
Each auto on the Ola platform ispowered with a GPS enabled smartphone with the Ola app for drivers that allows driver-partners access to continuous demand from customers around them. Auto driver-partners are notified of booking requests on their smartphones and are given navigation to reach the customer's doorstep on accepting a booking request. The GPS enabled smartphone also helps customers track their ride in real-time. Ola's in-app SOS feature and an in-app feedback mechanism allows for a consistent experience for users. Every Auto driver-partner on the Ola app goes through a KYC verification and training across behavioral, etiquette and technology to make the ride experience seamless for customers.
Ola has over 80,000 auto rickshaws registered on its platform across 12 cities and plans to launch in more cities in the coming months. Auto driver partners who have registered with Ola across the country, have seen their income grow by up to 40%.
Auto-Rickshaws Now Available on Ola App in Gurgaon & Noida